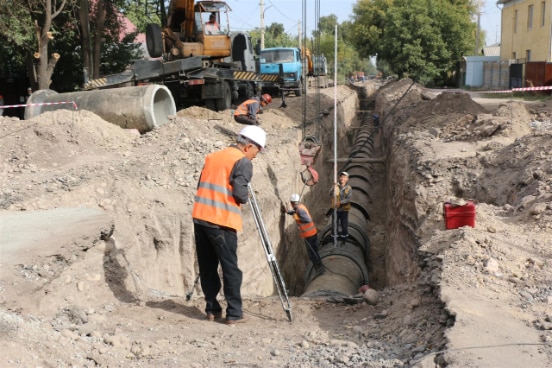 Over 1 million dwellers of the Kyrgyz Republic capital Bishkek will benefit from upgraded wastewater infrastructure thanks to support from the EBRD, the government of Switzerland and the Global Environment Facility (GEF). An 11-kilometre long wastewater collector pipe, the construction of which was launched today, will connect households in the southern and western part of the city with the central sewerage network. It will enhance sanitation services, improve quality of life and secure long-term sustainability of this key municipal utility.
The inauguration ceremony was attended by Alain Pilloux, EBRD Vice President, Zsuzsanna Hargitai, EBRD Managing Director for Central Asia, Olivier Bangerter, Ambassador of Switzerland to the Kyrgyz Republic, Aibek Dzhunushaliev, Mayor of Bishkek City and Muradin Seidaliev, Director of the Bishkek Water company.
The construction of the wastewater collector pipe is the last component of a wider water and wastewater improvement effort to increase water supply, rehabilitate pipelines and renew the laboratory equipment for reliable water analysis in Bishkek. It is financed by an EBRD loan of €8 million to the Bishkek Water Company, supported by a €7.45 million grant from the Government of Switzerland and a US$ 1.5 million grant from the Global Environment Facility (GEF).