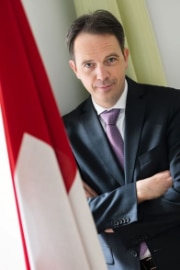 Dear Reader,
It is my pleasure to welcome you to the website of the Embassy of Switzerland in Latvia, Lithuania and Estonia. Whether you are a Swiss citizen residing in one of these countries, a business person, a tourist, a student or a company with an interest in the region or in Switzerland, I hope you will find this website a useful resource and a starting point for further research.

As 2021 marks a double anniversary of Switzerland's relations with Latvia, Lithuania and Estonia, I feel privileged to start my new mission in Riga, where our Embassy is located, at this particular time. This year we celebrate 100 years since Switzerland recognised Latvia, Lithuania and Estonia as independent countries, and 30 years since Switzerland re-established diplomatic relations with the three countries after they regained their independence. The jubilee year is symbolic of the longstanding and deep ties of friendship that bind us together. It is also a time to look ahead with confidence, for I am convinced that together we can achieve many great things, whether in business, education, innovation, science, culture or politics.

As Ambassador, I will do my utmost to further expand relations between Switzerland and Latvia, Lithuania and Estonia. Of course, relations with our compatriots residing in Latvia, Lithuania and Estonia are one of my top priorities and I can assure you that your well-being is particularly close to my heart. With the support of the Regional Consular Centre in Stockholm, I am available to address your concerns and will do everything in my power to support you.

The website is an entry point for people in Latvia, Estonia and Lithuania who are interested in Switzerland, its unique political institutions, its competitive and innovative economy, its first-class academic and research centers, its beautiful landscape or its cultural diversity and richness. You will find useful links to various Swiss authorities and institutions as well as relevant and regularly updated information on a variety of topics. If you wish to follow our activities more closely, you are cordially invited to follow the Embassy's or my personal Twitter account.

Thank you again for visiting the Embassy's website and I hope that during my stay in Latvia, Lithuania and Estonia there will be many opportunities to meet in person, something we all have been missing lately.

I wish you a pleasant visit to our website and invite you to send us your suggestions.

Sincerely yours

Martin Michelet
Ambassador of Switzerland to Latvia and Estonia, Ambassador-Designate to Lithuania