Welcome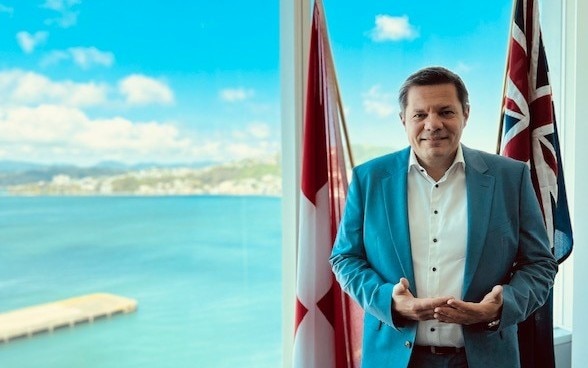 Welcome note of the Ambassador
Dear Swiss citizens, dear New Zealand and South Pacific friends of Switzerland,
It is with great pleasure that I welcome you to the website of the Embassy of Switzerland in Wellington.

Switzerland is geographically far from New Zealand, but it shares so many values. Both nations are old and stable democracies, believe in free markets and share a strong commitment to peace, human rights and the preservation of natural resources. Over seven thousand Swiss citizens have made New Zealand their permanent home and many more discover the beauties of its nature every year. Switzerland and New Zealand are far apart, but close at heart.

While our relations with New Zealand will mark their 60th anniversary in 2023, we strive to develop them with the small nations in the South Pacific.

Our Embassy aims to further deepen these relations in many fields, among them most importantly the political, economic, scientific and cultural ones. Our Consulate in Auckland and our Honorary Consulates General in Fiji, Samoa and Tonga give us valuable support in our work.

We provide consular services to our fellow citizens living in New Zealand, the Cook Islands, Fiji, Samoa, Tonga, Tuvalu, Niue and American Samoa who are registered with us, and to tourists from Switzerland. We strongly recommend those who live here and are not registered yet, to do so. It is free of charge, and it allows us to assist you if anything should happen.

On this website, not only the Swiss, but everybody interested in Switzerland will find much useful information. Should you need to know more in a particular field, the Embassy will be happy to assist you.

Our Embassy is privileged to be located on the Wellington waterfront with astonishing views of the harbour, the skyline and the dramatic, ever-changing weather. Personally, this is my permanent reminder of the delicate balance between the need to remain grateful for what is and to exercise farsightedness in addressing the challenges and opportunities Switzerland and our dear citizens are facing at home and in the world. We work for you and try to anticipate any developments.

I look forward to meeting as many of you as possible and send you my very best wishes.
Viktor Vavricka
Ambassador of Switzerland
Learn more about Ambassador Viktor Vavricka and his diplomatic career (PDF, 1 Page, 305.8 kB)