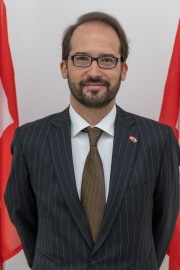 Dear visitors, dear fellow Swiss citizens,
Marhaban bikum! Welcome to the website of the Embassy of Switzerland in Muscat.

The Embassy of Switzerland in Muscat, officially opened on 12 November 2014, is in charge of bilateral relations between Switzerland and the Sultanate of Oman as well as the Republic of Yemen. Consular services for both countries are provided by the Swiss Embassy in Riyadh, Saudi Arabia.

I am happy to continue together with my team at the Swiss Embassy the good collaboration between our countries and am committed to further strengthen and diversify our bilateral ties with Oman and Yemen. Our goal is to promote peace and security in the region, to explore new economic and trade opportunities, to contribute to the sustainable development goals, and to protect the most vulnerable people in need - in order to leave no one behind.

After having served in and on the Middle East as well as the Horn of Africa in the past 18 years, my current functions are a logic continuation of my previous responsibilities. It is a particular privilege to serve the Swiss interests in Oman, the "Switzerland of the Middle East": not only a very like-minded partner country known for its warm hospitality, but also a particularly beautiful one with a rich, centuries-old history and culture.

I hope that this website will continue to be a resource for Swiss, Omani and Yemeni citizens to learn about our mutual relations and find the answers to their practical questions related to Embassy services and activities. You can find more information on the Embassy's activities on Instagram and Twitter.

Thomas Oertle

Ambassador of Switzerland to the Sultanate of Oman
and Ambassador to the Republic of Yemen