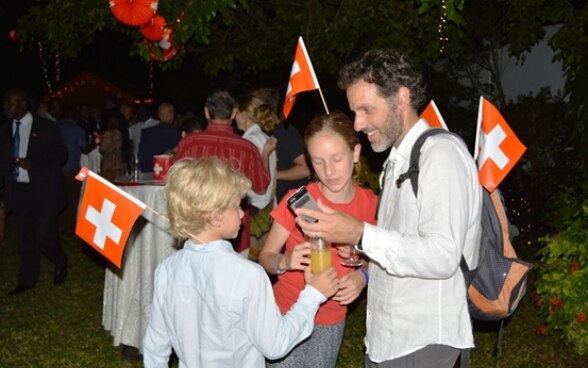 Swiss National Day was celebrated with an official reception held at the Swiss Residence in Dar es Salaam. The day saw members of the Swiss community, foreign diplomats, representatives of international organisations and government officials as well as many Tanzanian friends of Switzerland gathered at the event. 
The official ceremony commenced by playing the national anthems of both Switzerland and Tanzania followed by Welcome remarks by the Swiss Ambassador to Tanzania, H.E. Florence Tinguely Mattli and the message to Swiss citizens from the President of Switzerland, H.E. Doris Leuthard. In her remarks, Ambassador Tinguely Mattli welcomed the guests and expressed her gratitude to everyone for gracing the event with their presence. She shared with the audience the fundamental values that Switzerland places at the core of its economic success, namely education and innovation, freedom of expression and vibrant media, rule of law and an open and business friendly environment. In all these areas, Switzerland stands at the side of Tanzania.  
The Swiss Residence was adorned by flags of Switzerland and its 26 Cantons, Swiss lanterns and beautiful lights. Mock Swiss cows and a Swiss chalet completed the Swiss atmosphere! Traditional Swiss Cheese Raclette as well as savory hors d'oeuvres and chocolate cake were served to the over 350 guests at the reception. Swiss folk music and Jazz kept the event lively and guests entertained. 
The Swiss National Day commemorates the founding of the Swiss Confederation in 1291 and the Alliance between the three Cantons of Uri, Schwyz and Unterwalden, which grew over the centuries into modern Switzerland. The day brings together Swiss and friends of Switzerland for a day of popular festivities and celebration.