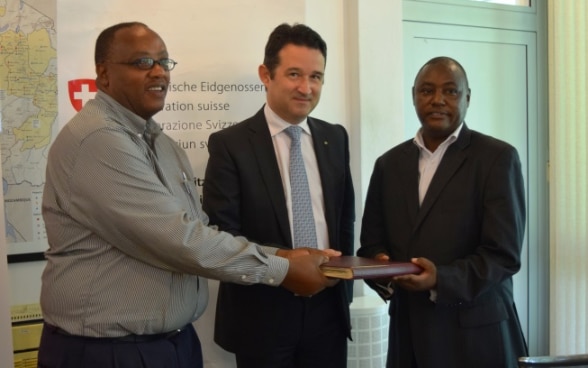 The five grant recipients for the 2017 fund are the National Museum of Tanzania (National Museum and House of Culture), Tanzania House of Talent (THT), Art in Tanzania, Gaba Africa Ltd. and Kijiji Studios Tanzania. All grantees have rich and diverse backgrounds in the creative industry. The organisations will use various art mediums including visual, performing and media arts in the implementation of their projects related to the fight against corruption, covering various regions while others with a national outreach.
The Swiss Ambassador and Representative to the East African Community H.E. Arthur Mattli met with the respective Directors and other representatives of the organisations at the award event. "Art and culture promotes crucial drivers of social change and behaviour," said Ambassador Mattli. Also present at the meeting was the Director of Community Education at the Prevention and Combating of Corruption Bureau (PCCB), Mr. Ekwabi Mujungu. 
The Embassy of Switzerland in Tanzania has been promoting and supporting various aspects of the Tanzanian culture since 2005. The 2018 Call for Proposals will be published later this year. 
Switzerland has been supporting development projects in Tanzania since the early 1960s. Over the next few years, Switzerland will continue to work with local and Swiss partners to foster an equal society, support economic growth that is inclusive of all citizens, and reduce poverty in poor regions of Tanzania through three major thematic areas: health, employment and income, and governance. The support to the fight against corruption is central in the bilateral cooperation between Switzerland and Tanzania.