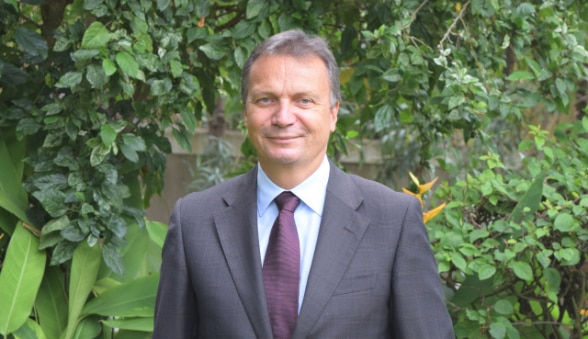 Dear Visitor,
It is my pleasure to welcome you to the website of the Embassy of Switzerland in Dar es Salaam, Tanzania. After postings in France, Bosnia and Herzegovina, Turkey and Venezuela – and of course in Switzerland –, my family and I are grateful and excited to have this opportunity to discover "Tanzania, Unforgettable". I look forward to picking up where my many predecessors left off and to contributing to further strengthen the friendship between Switzerland and Tanzania, between our two peoples.
Our two countries have a long history of mutually fruitful collaboration, dating back nearly 100 years. Swiss-Tanzanian relations were strengthened in 1966 with the official establishment of diplomatic ties, and further in 1981 when Tanzania became a priority country for official Swiss development assistance. Switzerland and Tanzania have thus witnessed steady progress in their bilateral relations and developed strong partnerships through political exchanges, and economic and development cooperation.
The Embassy continues to work with the Government of Tanzania, civil society, private sector and other stakeholders to constructively engage in areas of mutual interest. Ranging from political and economic (trade and investment) relations, to development cooperation, particularly in democratic governance, empowering and improving youth livelihoods, health, innovation, climate change and culture.

This website provides you with information about Switzerland and Tanzania, as well as about Swiss-Tanzanian relations. You will find various links to information and news about bilateral relations, development cooperation and consular affairs. We are at your disposal for any queries or suggestions you may have.

Thank you for visiting our website. We wish you a pleasant browsing experience!

Didier Chassot
Ambassador of Switzerland to Tanzania