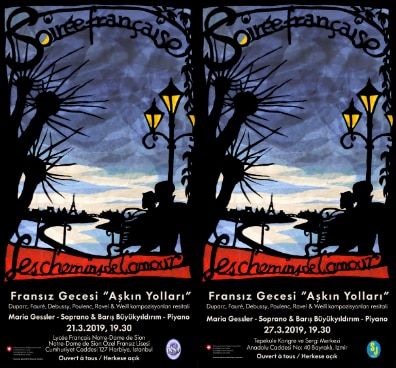 Every year, March is an opportunity to celebrate the Francophonie. The Consulate General of Switzerland in Istanbul collaborate with the French High School Notre-Dame de Sion and Saint-Joseph High School in Izmir and offers an evening of French songs performed by Swiss soprano Maria Gessler accompanied by Turkish pianist Baris Büyükyildirim. 
Born in Switzerland and a graduate of the Basel Academy of Music, Maria Gessler has been engaged as lead artist in several German operas, performing a wide variety of operatic and soprano roles. She has also played many roles as a guest artist in several European operas.   
Turkish pianist Baris Büyükyildirim is known for his technically brilliant playing and his versatility in virtually every genre. As a solo concert performer, orchestra soloist, collaborator, educator, opera coach and repetiteur, and jazz musician, Mr. Büyükyildirim has performed throughout the United States and Europe, in Canada, and in his native Turkey. 
For more information:
Concert in Istanbul: 21st of March at 19.30, Lycée Notre-Dame de Sion
Concert in Izmir: 27th of March at 19.30, Tepekule Kongre ve Sergi Merkezi