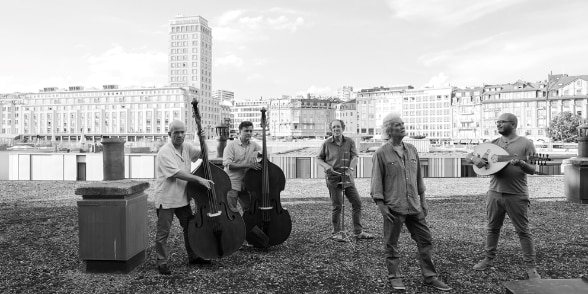 The Swiss jazz band Nu-Bass will perform in Istanbul on the occasion of the Francophonie at Lycée Français Saint Benoît and in Izmir for the Izmir Jazz Festival at the AASSM concert hall (Ahmet Adnan Saygun Sanat Merkezi).
Founded in 2015 by the pianist François Lindemann, this ensemble can be described as an "ethno-jazz band" with regard to the instruments used: piano, drums, tabla, oud and a rare combination of 2 double basses. All the songs are composed by François especially for this instrumentation. The 6 musicians come from different parts of the world: France, Tunisia, Switzerland and India. All have great experience of improvisation and musical interactions, as well as great skills on their respective instruments. These musicians have been traveling and playing all over the world for many years.
The Nu-Bass group has played since 2015 in many venues and jazz venues such as the Montreux Jazz Festival 2016. 
For more information:
Concerts in Istanbul:
- 12th of March, Nardis Jazz Club
- 15th of March at 20.00, Lycée Français Saint-Benoît  
Concert in Izmir:
- 14th of March at 20:00, AASSM concert hall