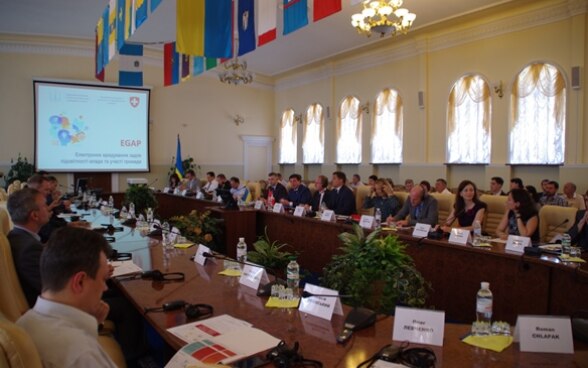 The Vice Prime Minister, Minister of Regional Development, Construction and Municipal Economy of Ukraine Mr. Gennadiy Zubko participated in the signing ceremony which took place during the launch of the new Swiss-Ukrainian joint program.
After the signing of the Memorandum, the Head of the Swiss Cooperation Office Ukraine Mr. Guido Beltrani highlighted: "Within the EGAP Program we plan to use e-governance and e-democracy tools as enablers for building the trust and cooperation between local authorities and citizens. We are confident that modern information and communication technologies are excellent tools for a more efficient provision of administrative services to citizens both from urban and rural areas, and for more transparent and inclusive decision making".
The EGAP seeks to strengthen good governance and modern public service delivery and social innovation in Ukraine by using the new information communication technologies (ICTs).
The selected partner regions are the Oblasts of Dnipropetrovsk, Odesa, Vinnytsia and Volyn.