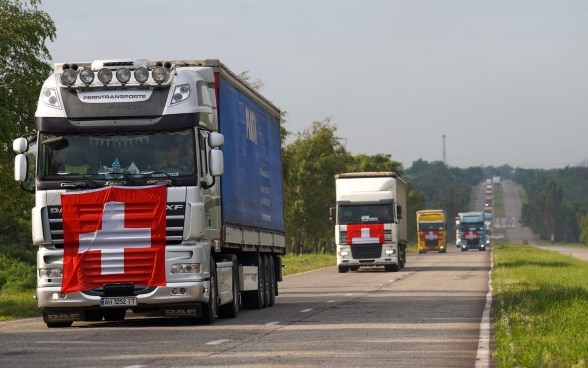 Over a period of two weeks, Switzerland deploys a total of 130 trucks with medical supplies and chemicals for drinking water treatment to beneficiary institutions in eastern Ukraine. Through the supply of chemicals such as aluminium sulphate and chlorine, the Ukrainian water utility Voda Donbasu can provide for another year sufficient quantities of drinking water to up to 4 million people in the whole region of Donetsk. Furthermore, thanks to the provision of vital medical devices, spare parts and consumables to 9 hospitals in Donetsk and Luhansk regions, the conflict-affected population on both sides of the contact line will have improved access to basic medical care and live-saving treatment.
The Swiss transport was organized and is accompanied by an expert team of Swiss Humanitarian Aid, supported by the Embassy of Switzerland in Ukraine. The delivery of humanitarian goods is conducted with the active support of the Ukrainian government and interlocutors in the regions of Donetsk and Luhansk. Precious logistical assistance for the preparation of the transport was provided by the UN Office for the Coordination of Humanitarian Affairs.
Switzerland stresses the importance of granting humanitarian organizations access to the conflict-affected population, in accordance with international humanitarian law. Access to basic services has to be ensured for all citizens, and freedom of movement for civilians within the conflict zone must be guaranteed. Switzerland calls on all sides to respect and protect critical civilian infrastructures.
Between April 2015 and October 2018, Switzerland had already sent nine humanitarian transports with 9'500 tonnes of emergency supplies to the conflict region.
Further information:
Embassy of Switzerland in Ukraine                                 
vul. Kozyatynska 12, P.O. Box 114, UA-01015 Kyiv          
E-Mail: kyiv@eda.admin.ch                                 
Web: https://www.eda.admin.ch/ukraine
Contact: Ms. Ludmyla Nestrylay, Communications Officer, ludmyla.nestrylay@eda.admin.ch; +380 44 281 61 28