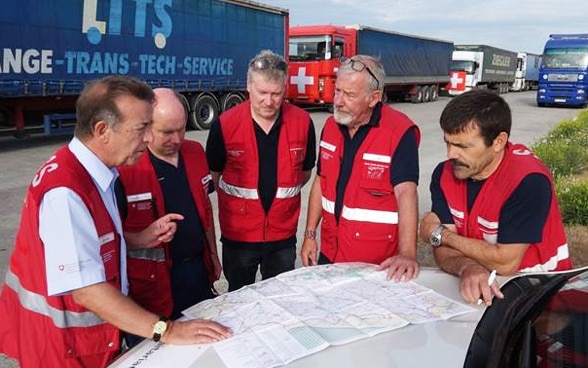 Swiss Humanitarian Aid, part of the Swiss Agency for Development and Cooperation (SDC), sent an assessment mission to the Donetsk and Luhansk regions in eastern Ukraine in February and March 2018 and found ongoing humanitarian needs for safe drinking water and medical supplies. Humanitarian access to Luhansk has been possible only since autumn 2017. Given that the Luhansk Oblast (province) has the highest incidence of TB in Europe, it was decided to focus the current aid delivery on improving the diagnosis capabilities of the local TB clinic.
Swiss aid deliveries operate on the principle of providing neutral and impartial humanitarian aid to people on both sides of the line of contact. Of the six convoys in what is now Switzerland's eighth aid consignment since 2015, three are being sent to the government-controlled area (GCA) and three to the non-government-controlled area (NGCA), i.e. the Donetsk and Luhansk regions. The three GCA deliveries reached their destination a few days ago, delivering several hundred tonnes of water treatment chemicals as well as medical equipment for five hospitals.
The first of the three NGCA convoys arrived in Donetsk today. Comprising 15 lorries and accompanying vehicles, this convoy delivered supplies of aluminium sulphate to the Voda Donbasa water treatment plant. The second and third NGCA convoys will set off in the next few days. These will each comprise 24 lorries with accompanying vehicles and will transport water treatment chemicals, chlorine-producing devices (WATA) and medical supplies for 17 hospitals (16 in Donetsk and one in Luhansk). Working closely with the United Nations, the Swiss team accompanying the convoy will supply the TB clinic in Luhansk with the equipment needed to quickly test for TB. This will bring a significant improvement in effectively treating the disease, which has reached epidemic proportions in the region.
Overall, Switzerland's eighth aid consignment will provide eastern Ukraine with medical equipment, 1,600 tonnes of water treatment chemicals, 28 WATA devices and six large chlorine-producing systems worth a total of CHF 2.1 million.
Apart from its work in humanitarian aid, the SDC is also present in Ukraine with development cooperation projects. Switzerland focuses its cooperation activities with Ukrainian and international partners on four areas: healthcare, governance and peacebuilding, energy efficiency, and sustainable urban and economic development.
---
Further information:
Video about the mission in Ukraine
Switzerland's activities in Ukraine
Humanitarian Convoys from Switzerland in Ukraine

---
Address for enquiries:
Information FDFA
Bundeshaus West
CH-3003 Bern
Tel.: +41 58 462 31 53
Fax: +41 58 464 90 47
E-Mail: info@eda.admin.ch
---
Publisher: