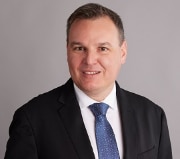 Dear visitor,
Welcome, Tigashire, Siyalemukela!

It is my great pleasure to welcome you to the website of the Embassy of Switzerland in Zimbabwe, which also covers Zambia and Malawi. Here you can find information on all facets of the strong and long-standing relationship between Switzerland and the three countries, the Embassy's services and activities as well as Switzerland in general.

Switzerland recognised Zimbabwe's independence in 1980 and our two countries signed an international cooperation agreement on humanitarian aid and technical and financial cooperation in 2017. However, the close political, economic and cultural ties between our two countries date back much further, of course. As the official representation of Switzerland in Zimbabwe, we strive to maintain and to foster these ties and to promote Swiss interests and values across all sectors in the country.

Today, strengthening these bonds between Switzerland and Zimbabwe is of paramount importance. The establishment of the Swiss-Zimbabwe Business Chamber is evidence of the trust that Swiss companies have in the future of Zimbabwe. Switzerland is one of the largest European investors here, and the hope is that more companies will see Zimbabwe as an attractive destination for investment.

The transition taking place in Switzerland's cooperation strategy globally and in the region, is a further boon for our two countries. It shows the importance Switzerland places on Zimbabwe's transformation in reducing poverty among the most vulnerable groups, particularly youth and women Switzerland is finalising on a new bilateral cooperation programme with Zimbabwe starting in 2023 that will further deepen our ties.

The more than 200 Swiss citizens living in Zimbabwe are the backbone of our strong political, economic and cultural presence. The Embassy is a service centre for the Swiss community and the Swiss travellers who visit this country. Although our Regional consular centre is in Pretoria, the Embassy still remains the first port of call for all Swiss nationals in the country.

Whether in business, development, politics and culture, we have plenty of stories to tell about the Swiss-Zimbabwe relationship and there will be many more in the future. To stay up to date with our activities, you are invited to follow us on Facebook. I invite you to explore our website, discover the rich history and blossoming relationship between Switzerland and Zimbabwe, and hopefully we might meet at an event in the near future!

Sincerely,

Stéphane Rey

Ambassador of Switzerland to Zimbabwe, Zambia and Malawi.