The Children's Fund – UNICEF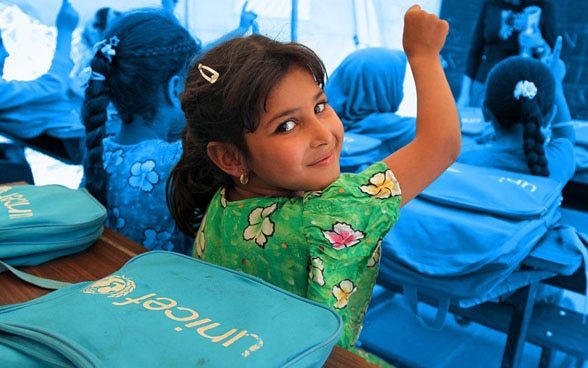 UNICEF works all over the world for children's welfare. It works for children's rights, the fulfilment of their basic needs and to improve their future prospects. Its dual mandate of emergency humanitarian aid and development cooperation makes UNICEF Switzerland's most important partner for the protection of children both in developing countries and crisis situations.
Despite enormous progress, millions of children are still unable to attend school, or suffer from malnutrition.
UNICEF's principal task is to promote the rights enshrined in the Convention on the Rights of the Child. UNICEF is committed to ensuring that all children, without discrimination or preference, have the opportunity to survive, thrive and fulfil their potential. UNICEF works to create appropriate conditions for children's development and is particularly concerned with the protection of children in conflicts and emergency situations.
Background
Considerable progress has been made over the past 20 years: the under-five mortality rate has fallen from 12.7 million to around 6 million deaths per year, and the proportion of children suffering from undernutrition has been halved. In 2016, the net primary school enrolment rate in developing countries reached 92%, and the gender parity ratio has steadily improved. However, a large number of the poorest and most disadvantaged children have not benefited from this significant progress. The positive results in countries that have achieved their national targets mask the considerable inequality that still exists. Moreover, ongoing humanitarian crises continue to hinder the development of some 30 million children.
UNICEF's goals
The UNICEF Strategic Plan 2018–2021 aims to achieve concrete results, particularly for the most disadvantaged children. The overarching aim is to break the vicious circle of inequality. The strategy is based on the following five goals:
Every child survives and thrives
This includes promoting development in early childhood, improving the nutritional status of children and boosting the health of mothers and newborns. It also includes, for example, ensuring the health of young people through vaccinations, HIV/AIDS prevention and the promotion of a balanced diet.
Learning processes in young children and the development of skills among young people are to be promoted and access to education for out-of-school girls and boys is to be ensured, especially in humanitarian crisis situations.
Every child is protected from violence and exploitation
This includes counteracting violence and harmful practices against girls and boys wherever possible, preventing serious violations against children in humanitarian crises and introducing universal birth registration.
Every child lives in a safe and clean environment
Access to drinking water and basic sanitation for every child is to be ensured. In addition, children are to be better protected from environmental degradation, natural disasters and the consequences of climate change.
Every child has an equitable chance in life
This includes ensuring gender equality at an early age, comprehensive support for children with disabilities, greater participation of young people in public processes and the reduction of child poverty through better social protections.

Results
Through its activities, UNICEF has made a substantial contribution to improving the normative and legal framework for children worldwide. In 2017, it achieved the following results, among others:
Over 78.6 million children were vaccinated against measles (+54% compared to 2013) and 150,000 HIV-infected children received antiretroviral therapy.
32.7 million children obtained access to improved drinking water (+42% compared to 2014).
12.5 million children were provided with educational materials (+31% compared to 2014).
Switzerland's commitment
Swiss priorities
UNICEF's priorities and operational activities are in line with the strategic objectives set out in the Dispatch on Switzerland's International Cooperation 2021–24, namely objectives 3 (ensure quality basic services and reduce the causes of forced and irregular migration) and 4 (promote peace, the rule of law and gender equality).
Switzerland's objectives in relation to UNICEF are the following:
Strengthen UNICEF's capacities for the protection and education of children, both in humanitarian emergencies and in long-term development cooperation;
Support UNICEF in its efforts to strengthen its operational capacity by improving its evaluation capacity, deepening its engagement with the private sector and promoting gender equality within the organisation;
Improve cooperation with the UN system through active participation in reforms of the UN development system and by strengthening coordination of activities at country level.
International Cooperation Strategy 2021–24
Switzerland's contributions
Switzerland has made a core contribution of CHF 59.6 million for the period 2018–20, or around CHF 20 million a year. The SDC also provides funding for UNICEF's humanitarian operations and development activities at the global and national levels, and provides experts for the implementation of UNICEF programmes in strategic areas such as protection, water and sanitation.
As one of the main donor countries and through its participation on the Executive Board, Switzerland plays an active role in monitoring and evaluating UNICEF's operational and financial reporting. Switzerland holds regular discussions with UNICEF at various management levels to determine progress and future challenges.
Switzerland's partnership with UNICEF contributes in the long term to stable societies and thus to a stable global environment. As a highly globalised, globally networked country, Switzerland depends on this stability for its security and prosperity.