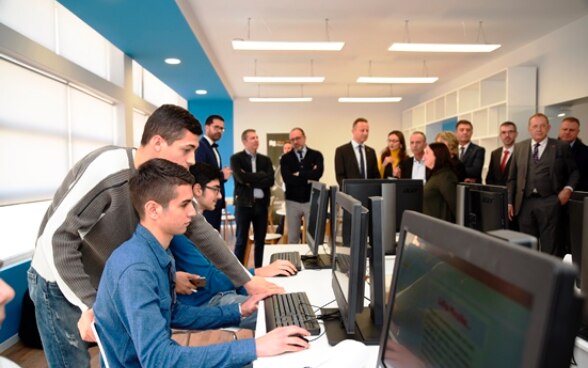 Skills for Jobs - a Swiss project in vocational education – promoted the importance of apprenticeship and invited several companies to cooperate with schools in offering chances for practical learning to students. The weeek concluded with the inauguration of a new IT lab and classes at the Industrial Vocational School 'Pavarësia' in Vlora and later with the launching of the Albanian Alliance for Apprenticeships – a collaboration between private companies and VET providers.
"The Albanian economy needs more and better vocational skills. I have been saying this in Albania during the last two years: vocational education is not second hand", said Swiss Ambassador Christoph Graf. Talking about the apprenticeship fairs Deputy Minister of Finance and Economy Dajna Sorensen said: "We have great examples of cooperation between entrepreneurs and students from the fairs in Lezhë and Vlorë".  
Apprenticeship fairs were organised during the week in Lezhë, Berat, and Vlorë where private business owners and managers had a chance to talk to vocational teachers and students about their needs and opportunities for labour skills. As a result 300 apprenticeship positions were secured for students by 100 different companies from these regions and from Tirana.
A new IT lab and classroom at the Industrial Vocational School 'Pavarësia' in Vlora was funded and renovated by SICPA – a Swiss company and founding member of SWISSA, the Swiss-Albanian Chamber of Commerce. Swiss Ambassador Christoph Graf and SICPA Executive Director Xavier Davard inaugurated the new premises.
Later a pledge was signed by the first five companies - including Vodafone Albania - schools and the project to establish the Albanian Alliance for Apprenticeships as a platform for improving vocational skills provision, sharing experiences and learning from best practices. Henry Leerentveld - Swisscontact Director for Eastern Europe – said that "the purpose of this initiative is to bring youth closer to entrepreneurship and to enable their necessary training".
The Apprenticeship Week was part of the European Vocational Skills Week (20-24 November) established by the European Commission to highlight the importance of vocational education and skills for a strong economy.
Skills for Jobs is introducing new approaches for vocational education in Albania by connecting learning with practical skills needed by businesses and the labour market and through attractive learning models for students.