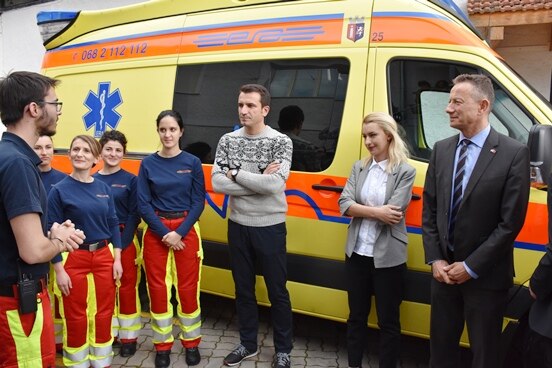 A new operations centre was inaugurated today at Emergency Response Albania – a centre dealing with prehospital emergency medical situations and accidents. Hi tech radio devices and a new ambulance equipped with state-of-the art technology are now part of ERA service. The Swiss Ambassador inaugurated the new investment while the Mayor of Tirana Erion Veliaj symbolically unfolded the emblem of the Municipality of Tirana printed on the new ambulance.
"I am glad this private foundation is providing a vital service of high Swiss standards in emergency situations in Albania", said Swiss Ambassador Christoph Graf. The Embassy of Switzerland provided 50,000 Swiss francs for the new operations centre which enables faster and better communication between ERA and hospitals and clinics. "What we see here is top notch technology – the same as that used in Swiss cities", added Ambassador Graf.
Mayor Veliaj praised the model set by the Swiss Foundation for Innovation as an example of providing help without expecting something in return. "This centre has not just the infrastructure but it also provides a new culture, that of giving and helping which is something our country desperately needs", said Veliaj in his greeting speech.
Christian Vögeli who leads the Swiss Foundation for Innovation and started the Emergency Response Albania initiative said: "ERA, as a supporting service, has an excellent collaboration with state structures both of healthcare and those of State Police and Firefighting Service. It's amazing to see that young Albanian health professionals choose not to immigrate but instead commit themselves to rescuing lives as they engage with ERA".
A tour of the premises followed and a simulation of emergency calls took place to indicate the short amount of time it takes to send an ERA ambulance to the destination.  
The Emergency Response Albania was established in 2012 by the Swiss Foundation for Innovation in order to provide top-notch emergency services in cases of accidents and life-threatening situations. It aims to empower and improve medical emergency services in Albania and save lives in cases of disease, injuries or disasters.
Its staff are constantly trained and upgrade their knowledge through expertise from the US, Switzerland and Germany. The staff are highly qualified and committed to their medical emergency work. ERA's medical emergency staff is on call 24 hours and 7 days a week and cover the wider Tirana area. The current fleet of ERA ambulances has top class equipment and instruments that are useful in emergency cases.  
ERA provides its life-saving services to anyone free of charge based on voluntary donations. The Swiss Foundation for Innovation is a non-profit organisation that implements its activities since 1991.