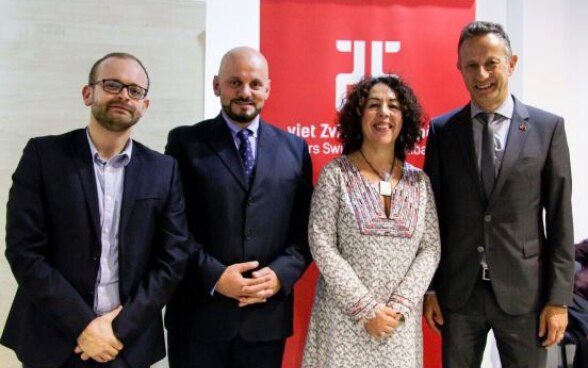 Swiss Ambassador Christoph Graf participated at the launching event of the Swiss Cultural Fund – the latest programme by the Swiss Agency for Development and Cooperation – SDC – to support young and emerging artists and cultural practitioners.
"Albania has talents and a cultural potential worth promoting. The Swiss Cultural Fund wants to strengthen an independent cultural scene in Albania through innovative funding opportunities. The fund will seek to support modestly cultural organisations and creative individuals to become more adept in their skills, to access new ways of funding and to implement concrete cultural projects", said Ambassador Graf during the launch.
The project was presented by Dritan Mezini, Swiss Cultural Fund Project Manager who spoke about the triple aims of the fund: to build capacities of artists and cultural organisations, to provide a modest grant scheme for cultural projects, and to link up with regional art and cultural scenes in the Western Balkans. "We will aim to introduce an entrepreneurial approach among young artists and cultural organisations. Our project is open to support all art and cultural genres as well as sport", said Mr. Mezini.
The fund will be managed by the Center for Business Technology and Leadership and its first phase of operation will cover a two year period.
A grant management and financing scheme was presented at the event to explain to artists and cultural organisations how they can apply and what support to expect. The project's website was also launched at the event.
The Swiss government views support to culture as crucial to boost development of countries in transition. A 1% of the total budget for Swiss international cooperation is committed to cultural funds and support.