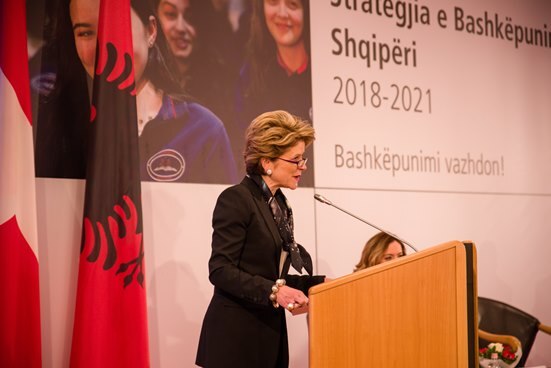 During a launching event today at Rogner Hotel representatives from the Swiss and Albanian governments presented a new strategy to support Albania over the period 2018-2021. Included in the opening was the Swiss State Secretary for Economic Affairs and Director of SECO, Marie-Gabrielle Ineichen-Fleisch, who is currently visiting the country. Prior to the event State Secretary Ineichen-Fleisch met with President Ilir Meta, Prime Minister Edi Rama and Minister of Finance and Economy Arben Ahmetaj. 
"The cooperation strategy we are presenting today encompasses several projects that directly or indirectly contribute to improvements in the investment climate in Albania", said Ms. Ineichen-Fleisch. She mentioned that the new strategy is 'a token of the importance of our relationship with Albania'.
Swiss Ambassador Christoph Graf stated: "The new strategy stresses results and applies a performance-based approach. Swiss support functions where there is action and response. We are convinced that such approach helps to improve the sustainability of our assistance. Switzerland will support Albania on its path towards European integration by contributing to a functioning democracy, improved public services and to an inclusive, competitive market economy".
Deputy Prime Minister Senida Mesi greeted the event on behalf of the Albanian government and stated "Both the previous strategy 2014-2017 and the one we are discussing today are a clear testimony of the very good cooperation between our countries. I congratulate the launching of this strategy and all the Swiss support because it aims at moving forward projects that serve macro-economic, social and political development in Albania".
Two young beneficiaries spoke about their experience in receiving support and funding from Swiss projects in their activities in civil action and enterprise.
The new commitments from the Swiss government to Albania's development emphasise 'inclusiveness' whether in democratic, social or economic aspects, and it re-determines the four key areas where Swiss assistance will focus. At least two new areas will receive Swiss support: (i) legislative institutions – the parliament and municipal councils; (ii) energy efficiency. A renewed focus on employment, democratic governance and primary health care will continue.  
Approximately 90 million Euro will be supporting development work in the above areas with about 37% going towards Democratic Governance, and 28% towards Economic Development and Employment. Major improvements are foreseen in water supply networks in at least 7 municipalities including Berat and Gjirokastër – both important touristic cities.
Albania is a priority country for Swiss international cooperation. Currently Switzerland is among the three largest bilateral donors in Albania.