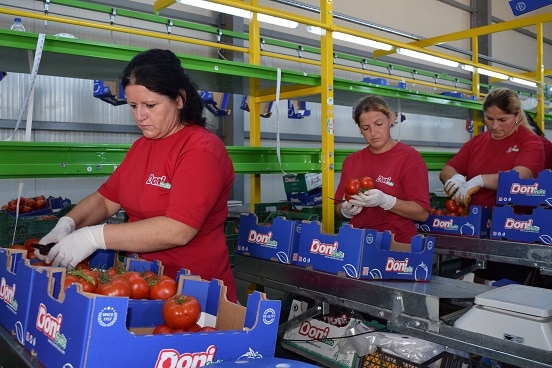 A group of 58 farmers working with Doni Fruits, an export company in Lushnje, are now certified both with Doni Fruits to export fruits and vegetables to European markets under the GLOBALG.A.P. group certification.
Sativa is an internationally accredited certification body based in Portugal who certified Doni Fruits and their associated group of farmers. Their Albanian partner, Albinspekt, awarded the certificates to Doni Fruits on Friday, September 13th, during an honorary ceremony organised at Doni Fruits' facility. The Minister of State for the Protection of Entrepreneurship, Eduard Shalsi, and the Embassy of Switzerland's Deputy Head of Mission in Albania, Patrik Meier, attended the ceremony.
"Our Swiss  RisiAlbania project supports exporters such as Doni Fruits to deal with standards of Global GAP, which is a guarantee for food safety as well as for safe working conditions for labourers. Exporters secure contracts with EU buyers, which in turn means a stronger and trustworthy relationship with the supplying farmers and more jobs for young people to meet the increased demand in Switzerland and the EU markets for environmentally–friendly products" – said Patrik Meier after visiting a greenhouse certified by GlobalGAP.
Minister Shalsi also congratulated Doni Fruits company and its 58 farmers for the awarded certificate. "This standard presents a good opportunity for other companies and farmers in Albania to pursue, and I can assure you that the Albanian government will support farmers and exporters with raising awareness on GlobalG.A.P. group certification" – said Shalsi.
This is the first time that GLOBALG.A.P group certification is provided to an exporter with such a large group of Albanian farmers, and the second time ever since January 2019.
"The reason we started this endeavor was because of the international market demand for certified products. We had information on GlobalG.A.P. certification, but we were afraid to start this process. Thanks to our partners RisiAlbania and Albinspekt we managed to receive the GlobalGAP group certification, a big achievement for our company, but also for the country who is now represented with its certified products in international markets" – stressed Ejup Ahmeti, administrator of the Doni Fruits company.
Through this certification, Albanian fruits and vegetables are guaranteed to meet safety and quality requirements imposed by Western European supermarkets. The certification also ensures the sustainability of the production process, which must respect the health, safety and welfare of workers, as well as the environment.
RisiAlbania, a project of the Swiss Agency for Development and Cooperation SDC implemented by Helvetas Swiss Intercooperation and Partners Albania, is supporting exporters to manage and obtain Global G.A.P. group certification for their supplying farmers. By obtaining GlobalG.A.P certification Albanian exporters access higher value markets and secure better contracts with buyers, which leads to stronger relationships with their supplying farmers, and more jobs for young people to meet increased demand.
RisiAlbania has supported pioneering exporters to introduce GlobalG.A.P. group certification in Albania: it started in 2018 when Tomato AL, an exporter based in Berat, successfully obtained the GlobalG.A.P group certification for an initial group of 16 farmers. Their exports to European markets increased by 30% during the first year, raising the interest of other companies and farmers for obtaining the group certification. Doni Fruits follows suit with a larger group of farmers and more certified commodities.
To further raise awareness, the project has supported Albinspekt to create an online platform, www.agroquality.al, where all the guidelines, information, and learning tools for preparing and implementing the GLOBALG.A.P standard are publicly available in Albanian language.