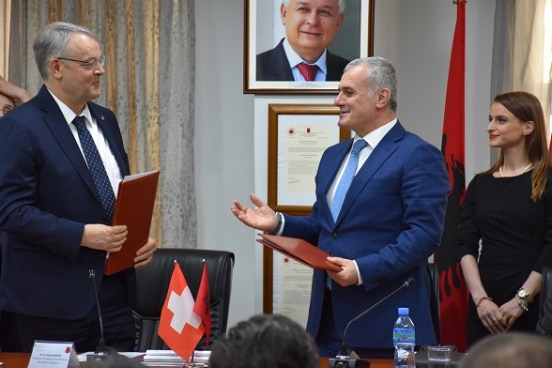 The Head of Albania's Supreme State Audit Bujar Leskaj and the Swiss Ambassador Adrian Maître signed today a bilateral agreement on providing know-how, technical skills and new technologies in the area of supervising concessions and public-private partnerships (PPP's).
"The role of the Supreme State Audit is of utmost importance in view of Albania's recent efforts to improve justice, modernize public administration, and strengthen the fight against crime and corruption. The country needs to have an adequate framework for ensuring that concessions and PPP's deliver value for money, that risks are minimized, and that projects are affordable in terms of public financing", said Swiss Ambassador Adrian Maître.
"Through this agreement it will become possible that we benefit from the experience of  international experts and that of other partners from civil society, with the purpose of deepening accountability and transparency in using public funds and resources, and seek that these funds and resources are used in each case with efficiency, effectiveness and economically", said the Head of the Albanian Supreme State Audit Bujar Leskaj.
Based on the new agreement, international experts will work alongside Albanian colleagues from the Supreme State Audit on past and present concessions including road infrastructure and health. They will check on procurement methods, calculated costs, selection procedures, and contract monitoring, with the final findings and recommendations to be submitted to the Parliament.
Through the new project a new structured approach will be introduced and tested in auditing concessions and public-private partnerships. Swiss and international expertise will be utilized to strengthen the capacities of the State Supreme Audit institutions. The project is titled "Strengthening external audit supervision for concessions and public-private partnerships in Albania" and is funded by the Swiss State Secretariat for Economic Affairs, SECO.
Swiss support in the area of public finance management includes debt management, tax administration, public accounting, financial statistics and municipal finance. This latest support to the Supreme State Audit completes this cycle by providing much-needed assistance with the view of strengthening the supervisory role of the institution.