Embassy of Switzerland in Australia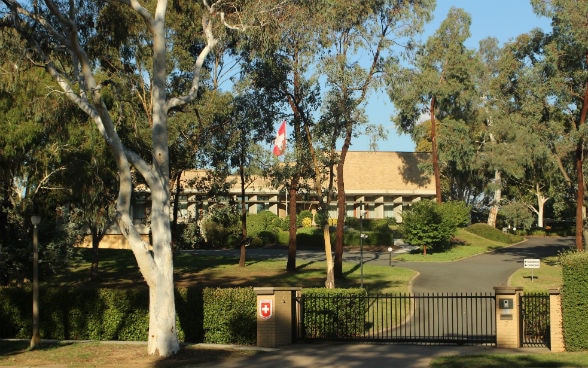 As the official representation of Switzerland, the Embassy covers all matters concerning diplomatic relations with Australia, Kiribati, Nauru, Papua New Guinea, Solomon Islands and Vanuatu. It represents Swiss interests in the areas of political, economic and financial affairs, legal arrangements, science, technology and education.
Please note that all visa and other consular matters are dealt with by the Consulate General in Sydney. For any related information please directly contact the Consulate General.
Who is who
Mr Pedro Zwahlen, Ambassador of Switzerland to Australia, Head of Mission
Mrs Yasmine Chatila Zwahlen, Ambassador of Switzerland to Kiribati, Nauru, Papua New Guinea, Solomon Islands, Vanuatu and Special Envoy of Switzerland for the Pacific Region, Head of Mission
Mr Stefano Vescovi, Deputy Head of Mission
Mr Sébastien Monnet, Science, Technology and Education Advisor


Mrs Bernadette Hunkeler Brown, Consul General of Switzerland in Australia, Kiribati, Nauru, Papua New Guinea, Solomon Islands and Vanuatu


Mr Victor Wong, Honorary Consul General in Papua New Guinea
Mrs Manuela Erb, Honorary Consul in Victoria
Mr Daniel Gschwind, Honorary Consul in Queensland
Mr Marc Montandon, Honorary Consul in Western Australia
Mr Patrick Wille, Honorary Consul in South Australia
Prof. Dr Margaret Otlowski, Honorary Consul in Tasmania
Mr Peter Bendel, Honorary Consul in the Northern Territory