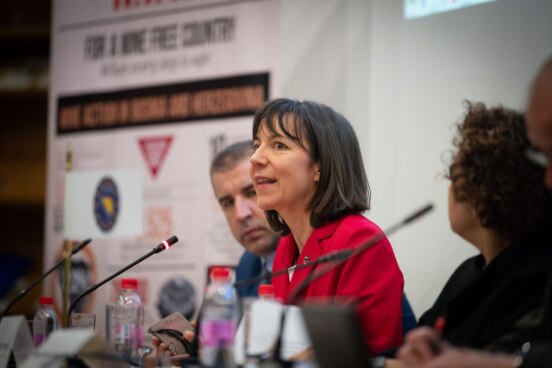 Ambasada Švicarske u Bosni i Hercegovini podržala je Ministarstvo civilnih poslova Bosne i Hercegovine u obilježavanju Međunarodnog dana borbe protiv mina, zajedno sa Komisijom za deminiranje u Bosni i Hercegovini, Centrom za uklanjanje mina u Bosni i Hercegovini i Razvojnim programom UN-a u Bosni i Hercegovini. Brojnim akterima u Zgradi Parlamenta Bosne i Hercegovine predstavljena je trenutna minska situacija u zemlji, rezultati koji su do sada realizovani kao i ciljevi nedavno usvojene Strategije protuminskog djelovanja 2019.-2025. godine.
"Nakon više od 20 godina od okončanja sukoba, političke i administrativne prepreke ne mogu se koristiti kao izgovor za neučinkovito protuminsko djelovanje. Potrebno je raditi u skladu sa nedavno definiranim rokovima i fokusom na prioritetne oblasti. Svi oni koji neumorno rade na smanjenju opasnosti od mina u Bosni i Hercegovini za građane u ugroženim zajednicama širom zemlje predstavljaju simbol nade za mirnu i prosperitetnu budućnost. Kao što znate, što više vremena prolazi, to je teže pronaći mine i vrlo vjerovatno i teže dobiti dovoljno pomoći u njihovom uklanjanju. U tom smislu, jako mi je drago što ste sebi zadali ambiciozne rokove za uklanjanje opasnosti od mina u BiH", poručila je ambasadorica Švicarske u Bosni i Hercegovini Andrea Rauber Saxer na današnjem skupu.
U sklopu ovog događaja otvorena je i izložba fotografija "Život sa minama" koju je pripremio Ženevski međunarodni centar za humanitarno deminiranje (GICHD) u saradnji sa Saveznim ministarstvom vanjskih poslova Švicarske. Fotografije ilustruju uticaj mina na svakodnevni život žrtava mina, njihovih porodica i ljudi koji se bave protuminskom akcijom u Bosni i Hercegovini, Libanu i Kolumbiji. Izložbom se odaje počast hrabrosti i odlučnosti ljudi koji rade na tome da minirana područja ponovo budu sigurna za život.
"Naša izložba je internaktivna i mobilna. Nakon postavke u Parlamentu Bosne i Hercegovine može se pokazati širom zemlje kako bi potpomogla edukaciji i podizanju svijesti o minama. Iskreno se nadam da će se za nekoliko godina, kada to više ne bude potrebno, vratiti u Švicarsku da služi kao podsjetnik ljudima u Švicarskoj zašto je za nas važno promovirati zabranu mina i mir u svijetu", poručila je ambasadorica Rauber Saxer.
"Život sa minama" istovremeno je predstavljena u Ženevi i Sarajevu, dajući ljudsko lice protuminskoj akciji. Digitalnu verziju izložbe pogledajte na Life of Mine. Video priče ljudi koji se bave protuminskim akcijama iz BiH i svijeta pogledajte na YouTube kanalu Ambasade na SwissEmbassy@CH_Sarajevo.
Uz direktnu podršku Švicarske, koji u kontinuitetu traje od 2003. godine, oslobođeno preko 12 km2 minski sumnjive površine širom zemlje. Lokalno stanovništvo sada u velikoj mjeri koristi oslobođena zemljišta i za svoje ekonomske aktivnosti (poljoprivreda, stočarstvo, eksploatacija šuma.). Švicarska također podržava i rad Deminerskog bataljona Oružanih snaga BiH kroz dodatne obuke i opremanje. Do sada je u projekte protuminske akcije u BiH Švicarska uložila blizu 6,5 miliona CHF (oko 11,5 miliona KM), a podrška se nastavlja i u ovoj godini.