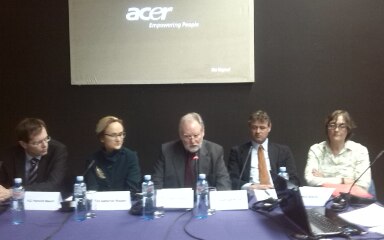 Heinrich Maurer, Swiss Ambassador to Bosnia and Herzegovina (BiH), stressed that Switzerland is a long standing promoter of cultural activities in the region. The Swiss Cultural Programme, predecessor of BAC, has supported more than 3'000 different cultural projects, from 1999 and 2012. Heinrich Maurer: "The primary target group of beneficiaries of the Balkan Arts and Culture Fund will be independent cultural actors since art is the daughter of freedom as Friedrich Schiller once said."
Jean Daniel Ruch, Swiss Ambassador to Serbia, added that culture is witness to the dynamics and power of attraction of any society. "Through this programme, Switzerland wants to foster creation and innovation in this whole region", he said.
Joseph Guntern, Director of Cooperation in the Swiss Embassy in BiH, said: "As  a partner of BAC, we stream to create a flourishing cultural scene in the region; independent artistic expression and cultural work are driving forces of societies in building up democracy, security and prosperity for the people in a strictly future oriented way."
The support to the creation of new innovative generations will be provided throughout the implementation of a number of contemporary artistic and cultural projects. The first seven regional collaboration projects (COLABs) were promoted today.
BAC relies on the results, successes and lessons learnt from the former Swiss Cultural Programme and the Balkan Incentive Fund for Culture. It will connect cultural actors from Albania, Bosnia and Herzegovina, Kosovo, Macedonia, Montenegro and Serbia
For more information on BAC, please visit: www.balkansartsandculture.fund