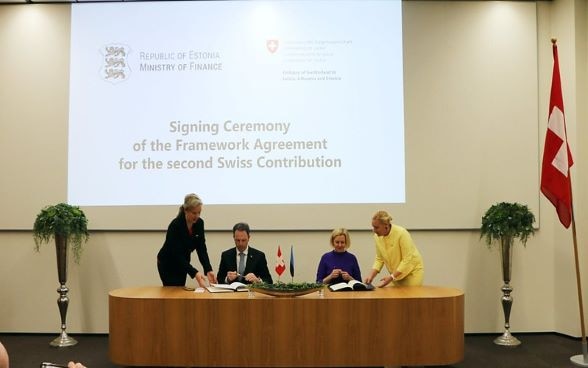 On 21 November 2022, Swiss Ambassador Martin Michelet and Estonian Minister of Finance Annely Akkermann signed the Implementation Agreement for the Swiss-Estonian Cooperation Programme under the second Swiss Contribution to selected EU member states. Switzerland will support two programmes – the first one aiming at fostering integration and social inclusion and the second one at safeguarding biodiversity - with 26 million Swiss francs.
18.6 million Swiss francs will be allocated for social inclusion, while biodiversity protection will receive 6.9 million Swiss francs. The remaining 0.5 million Swiss francs will be used for technical assistance.
The social inclusion programme will focus on the integration of foreigners, including war refugees from Ukraine, through creation of better possibilities of integration into local societies.
The biodiversity programme seeks to contribute to the improvement and preservation of the conservation status of species and habitats through a decision-making process that relies on high-quality data, including innovative monitoring solutions.