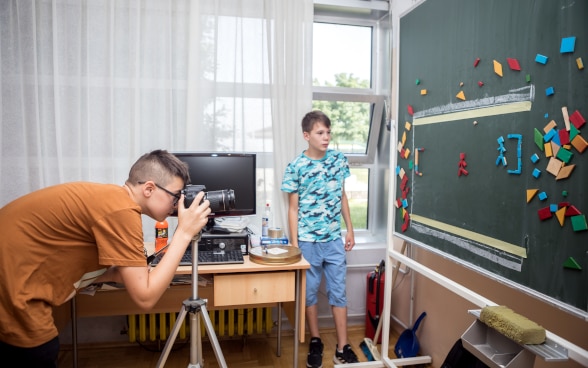 The second contribution will be implemented in the same way as Switzerland's enlargement contribution: funds will be used in the selected EU states for specific programmes and projects which must also be co-financed by the partner country. Partner countries can choose programmes and projects from a range of thematic areas selected by Switzerland in line with their own national strategies.

All programmes and projects must be completed by 2029. They will be financed by the cohesion framework credit of CHF 1.102 billion, which was released by Parliament on 30 September 2021.

Second contribution thematic focus areas
The second Swiss contribution will be used in those areas where there are proven needs and Switzerland can add value by providing its expertise and experience through partnerships.

The SDC supports programmes focusing on research, health, vocational training, integration, security, the inclusion of minorities, citizen engagement and biodiversity. SECO programmes focus on environmental and climate protection (water and wastewater, waste management, energy efficiency and renewable energies), urban planning, support for SMEs and tourism.

Positive signal to the EU
Like the other EEA/EFTA states, Switzerland is helping to reduce economic and social disparities in the EU so as to contribute to European stability as a whole. Implementing the second contribution swiftly is also important for Switzerland and its bilateral relationships with its partner countries. In so doing, Switzerland is not only highlighting its willingness to proactively press ahead with the implementation but is also sending an important signal to the EU – seeking to consolidate and further develop the bilateral approach in the interests of both sides.

On 4 June 2021, the Federal Council mandated the SDC and SECO to start negotiations on cooperation programmes with partner countries. Following Parliament's release of the two commitment credits, negotiations were advanced and gradually formalised in autumn 2021. As of today, the bilateral implementation agreements can now be signed with each partner country.

The cohesion framework credit will be used to support a total of 13 EU member states. The remaining five implementation agreements are currently being negotiated.
---
Further information:
Federal Department of Economic Affairs, Education and Research

---
Address for enquiries:
For further information:
FDFA Communication
Tel. +41 58 462 31 53
Tel. Press service +41 460 55 55
kommunikation@eda.admin.ch
---
Publisher: