Welcome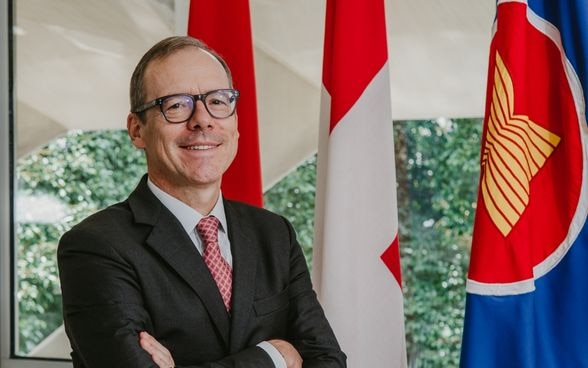 Dear Visitors,
Welcome to the website of the Embassy of Switzerland in Indonesia.
Although geographically far apart, Switzerland and Indonesia have developed close political, economic and social links over a long time. Already in 1863 Switzerland opened a Consulate in Jakarta (then called Batavia), and in 1952 a diplomatic representation was established. Since then, many high-level political visits strengthened the relations between both countries, particularly during the last years, and trade and investment grew strongly. More than 150 Swiss companies are present in Indonesia, and the number of tourists traveling to and from Switzerland increases by a two-digit number each year. Indonesia is a priority country of Swiss economic cooperation, managed by the Section for Economic Cooperation (SECO) within the Embassy. Over 1100 Swiss citizens live in Indonesia, and Swiss Honorary Consulates are operating in Bali, Makassar and Surabaya.
The Embassy in Jakarta is also in charge of Swiss relations with the Democratic Republic of Timor-Leste and with the Association of Southeast Asian Nations (ASEAN). Switzerland is currently strengthening its ties to the regional organization ASEAN, based in Jakarta, after having been conferred the status of a Sectoral Dialogue Partner in 2016.
The Embassy in Jakarta covers all matters of international relations with Indonesia, Timor-Leste and ASEAN. It represents the interests of Switzerland as well as of Swiss citizens in Indonesia and Timor-Leste. The Diplomatic Section deals with politics, economy, finance, science and technology, education, public affairs and culture. The Consular Section provides services for Swiss citizens in Indonesia and Timor-Leste. The Visa Section issues visa for visitors to Switzerland.
The Section for Economic Cooperation (SECO) is focusing on economic cooperation based on Indonesia's development priorities. Its activities contribute, together with local partners, to good economic management, enhanced private sector and trade competitiveness, as well as sustainable and inclusive growth in Indonesia.
The Swiss Business Hub Indonesia at the Embassy supports Swiss companies which want to establish business relations in Indonesia. It also provides information to Indonesian companies interested in setting up business in Switzerland.
Our Switzerland Tourism team, together with the regional office in Singapore, promotes tourism from Indonesia to Switzerland.
To stay on top of the news about the Embassy's activities, you are invited to subscribe to our newsletter and to follow us on Facebook. 
We are constantly dedicated to further improving our services, and we welcome your comments and suggestions.
Thank you for your attention.
With my best wishes,
Olivier Zehnder
Ambassador of Switzerland to Indonesia, Timor-Leste and ASEAN