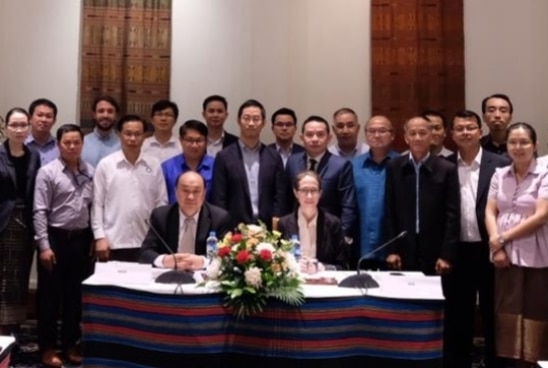 The project implementation is cross-sectoral and requires high commitment and dynamic collaboration with different GoL agencies for its implementation. For an implementation period of 3 years, the K4D project receives a total budget of CHF 3 million. The new K4D is contributing to continuous cross-sectoral and vertical data integration of detailed national information from a board range of thematic sectors.
The project supports research institutions to develop knowledge products for policy formulation and to feed them into the nation's policy dialogue and strategic decision-making and policy-making processes. K4D supports the GoL to achieve its set development goals and vision, in particular in support of reaching the targets of the 8th NSEDP and the global agenda 2030, along with a smooth graduation from LDC status.
Dr. Leeber Leebouapao, Vice President of the National Institute for Economic Research (NIER), and Ms. Michal Harari, Head of SDC's Governance Program for the Mekong Region, co-chaired the meeting, in attendance of relevant high level officials from different ministries and departments concerned, and representatives from the Centre for Development and Environment CDE.
"The Knowledge for Development is a key project of Switzerland with the aim at strengthening the institutional capacity to further improve exchange and integration of new data, and knowledge generation for informing policy dialogue processes" , said Ms. Harari.
"Two main objectives of the new K4D project are (1) to provide support on policy dialogue by using research findings with scientific knowledge base and enhance analytical capacities, and (2) to continue integrated data and information from across sectors and administrative levels is available for analysis, planning, and decision-making.", said Dr. Leeber.
The Government of Switzerland, through SDC has a long history of fruitful development cooperation with the GoL. Among many other important initiatives, the Government of Switzerland has supported the GoL to foster the integration of information from different thematic development sectors, data analysis, and development of new policy knowledge for policy making since 2006 with total amount of accumulated funds of Swiss Franc 7,917,000.