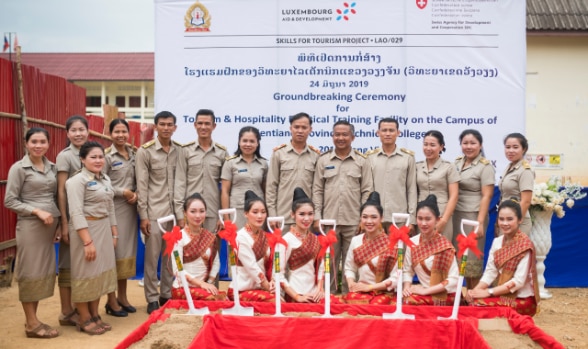 This multi-purpose building will be used as a practical training facility for students enrolled on tourism and hospitality programmes and at the same time can function as a small hotel enterprise offering six guest rooms for let, providing students with the opportunity to hone their practical skills in a real work environment.
The construction and equipping of the practical training facility is one of the 'improving training facilities and standards of TVET and IVET schools and colleges' initiatives under the Skills for Tourism project, which is co-financed by the Governments of Lao PDR, the Grand Duchy of Luxembourg and Switzerland, and implemented by the Ministry of Education and Sports of Lao PDR and the Luxembourg Development Cooperation Agency (LuxDev). United Nations Office for project Services (UNOPS) was contracted to provide a 'turnkey' service covering the design, construction and fitting out of the facility transitioning the newly constructed building into a functional Tourism and Hospitality practical training facility.
Vang Vieng is a flagship tourism destination in Lao PDR, however the location lacks a modern vocational training facility for tourism and hospitality. Therefore, the new construction will host the Tourism and Hospitality Department of the Vientiane Province Technical College, offering new and improved tourism and hospitality programmes in a contemporary environment.  At the same time, Vang Vieng's strategic location facilitates access to potential students from the surrounding area.
In his opening remarks, Dr. Kongsy Sengmany, Vice Minister of Education and Sports (MoES), said that "developing tourism and ensuring that Lao people are able to take full advantage of the employment opportunities the sector offers is a priority for the country and is in line with the vision and objectives of the Eighth National Socio-Economic Development Plan 2016 - 2020 and Lao PDR Tourism Strategy 2006 – 2020. The construction of a modern practical skills training facility offers access to better training which in turn improves the employability of Tourism and Hospitality graduates".
During the groundbreaking ceremony, H.E Mr Jean-Paul Senninger, Ambassador designate of the Grand Duchy of Luxembourg, also welcomed the initiative stating that "the practical training facility will increase the possibility for ensuring the labour-market orientation of programmes.  Delivering training relevant to the workplace, respected by employers and in high demand by students will support Lao PDR to reach international standards in the area of tourism and hospitality."
Mrs Barbara Jäggi Hasler, Deputy Director of Cooperation/Head of Employment and Skills Domain, Swiss Agency for Development and Cooperation, commented that "providing Vientiane Province Technical College with a modern practical skills training facility will have many benefits, especially in terms of access. Students from the ethnic minority secondary school located on the outskirts of Vang Vieng town will be able to attend Tourism and Hospitality programmes. The offer of relevant courses will also most likely increase the demand and number of students enrolled."
The practical training facility is scheduled to be completed and ready to welcome Tourism and Hospitality students in October 2019.