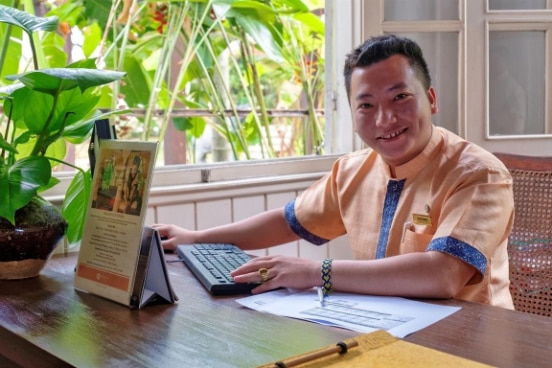 21-year-old Porvang is adjusting his uniform as he welcomes guests at the renowned Angsana Maison Souvannaphoum Hotel. Starting off as a waiter, he just got promoted to the front office department.
Porvang was recruited after he completed a three-month course in Food Production at the LANITH Luang Prabang Training Centre. Asked about the course, he gives a big smile and says "this training changed my life, it's where I learned my signature, my path".
The three-month Certificate 1 (C1)-accredited training programmes in Food Production, Food and Beverage Service and Housekeeping are supported by the Skills for Tourism Project (LAO/029) and delivered by the LANITH  Luang Prabang Training Centre.
These training courses which focus, in particular, on inclusion of people from disadvantaged backgrounds in tourism/hospitality training and employment, are designed to equip young women and men with the required skill set to land an entry-level job in the tourism and hospitality sector. The LANITH  Luang Prabang Training Centre supplements the high quality practical training with intensive English language lessons and basic employability skills.
Since 2017, the project supported over 100 students (75% of whom are women). All graduates have secured employment in the tourism and hospitality sector, including at leading hotels and restaurants in Luang Prabang.