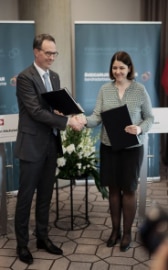 On 22 May 2023, the Ambassador of Switzerland Martin Michelet and the Lithuanian Minister of Finance Gintarė Skaistė signed the implementation agreement for the Swiss-Lithuanian Cooperation Programme under the Swiss-Europe Contribution. The contribution to Lithuania amounts to 45.2 million Swiss francs and will support strategic reforms undertaken by Lithuania in the fields of health, vocational education and civic participation.
The implementation agreement marks an important milestone for the new Swiss-Lithuanian Cooperation Programme. An amount of 30 million Swiss francs has been earmarked for improving maternal and child health and wellbeing. The civic engagement programme will receive 10 million Swiss francs, and vocational education programme will be supported with 4.5 million Swiss francs.
The maternal and child health and wellbeing programme will contribute to Lithuania's health care reform by improving quality and accessibility of maternal, infant and child healthcare and social services in the country with an emphasis on outpatient care. The civic engagement programme will focus on strengthening civic participation in the decision-making process by developing tools aimed in particular at first-time participants – youth, migrants and refugees. Moreover it seeks to increase the quality of volunteering by developing an organizational standard for quality volunteer management, including development of the e-volunteering activities. The vocational education programme will help validate professional competences acquired in the workplace improve their recognition. The programme thereby responds to the requirements of the labour market and seeks to enhance the availability of highly skilled professionals.