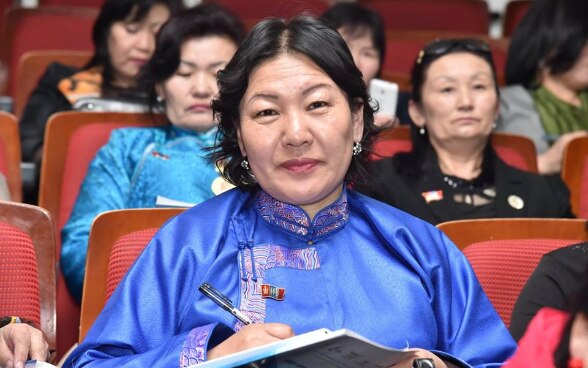 Attempts have been made to increase women's political participation, including the introduction of a quota system for female candidates. During the 2012 elections, the quota was 20 percent, and the current Parliament has 11 female MPs.
In order to raise awareness of the political gender divide and to encourage women to take part in elections, a national forum on "Women's Participation at the Decision-Making Level" was held on 4 April, 2016, at the Central Cultural Palace in Ulaanbaatar.
"It's a huge inspiration for women at all decision-making levels to share their experiences and receive support from each other," said MP TS. Oyungerel. "We're proud that women can bring about recognisable change at every level in Mongolia."
The forum brought together 529 people representing female leaders from throughout the country, including 338 women from rural areas, nine female MPs, representatives from academia, and 123 women from civil society organisations.
The objective of the forum was to inform female leaders about the election process and to raise awareness about the importance of participating in elections in order to ensure more balanced representation in decision-making bodies.  
The forum was opened by Speaker of Parliament Z. Enkhbold, followed by UN Resident Coordinator Beate Trankmann. Throughout the forum, presentations were made on such topics as "Women's Participation in Political Decision-making Bodies at National and Local Levels", "How to Prepare Women for Political Careers" and "Women's Leadership in Mongolian Society".
"Irrespective of their party, I can see that women are united in their activities and can openly discuss their thoughts and feelings," said Bulgan aimag Citizens' Representative Khural Chair D. Garmaa. "There are many advantages in having more women in politics, such as respect for the rule of law and State ethics."
The Swiss Agency for Development and Cooperation-funded project "Capacity Strengthening of Local Self-Governing Bodies" implemented by UNDP organised the forum in collaboration with the Parliament Secretariat, the Women's Caucus of the Parliament, the International Republic Institute and the Government of Canada (Global Affairs Canada). Two other SDC projects (Green Gold and Sustainable Artisanal Mining) also contributed by arranging for the participation of female leaders from herders' and artisanal mining organisations.