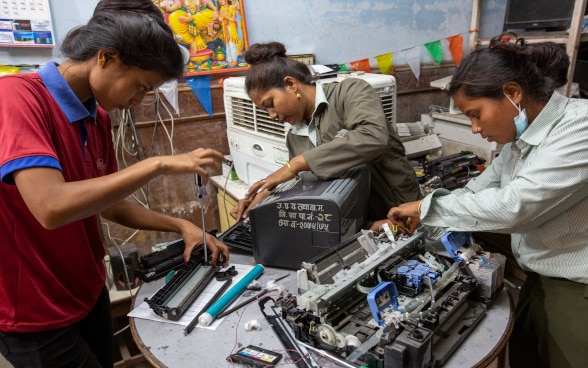 Nepal is making progress in terms of economic growth and poverty reduction. However, in order to sustain this progress, Nepal needs to broaden its economic base and ensure more equitable development. Provincial and local governments have not yet fully assumed their key role in promoting economic development. In response, Switzerland has broadened its portfolio to comprehensively support provincial governments in creating an environment that enables business development in its focus areas.
Under the Cooperation Programme 2023–26, Swiss interventions aim to enable the three spheres of government to clarify their roles and responsibilities in building a conducive climate for inclusive and sustainable economic growth and in providing the necessary infrastructure. Through the promotion of enabling market functions, such as financial and business services, Switzerland supports micro, small and medium-sized enterprises (MSMEs) to innovate, expand markets, provide jobs and increase the incomes of employees. Switzerland engages with both public and private sector stakeholders to reform the technical and vocational education and training (TVET) sector in order to provide Nepali businesses with access to required skills as well as to enhance access to jobs and income opportunities for young people.
Switzerland advocates for and facilitates the formulation and amendment of relevant policies, including the various financial planning instruments, to ensure a more conducive environment for economic growth, especially in the fields of investment and trade, infrastructure, agricultural innovation and markets, and technical education and training. In addition, Switzerland and its partners assist the private sector in advocating for favourable economic framework conditions and sectoral policies. In this regard, there is a special focus on reducing factors of exclusion to ensure that disadvantaged groups find opportunities to enhance productivity and employment prospects.