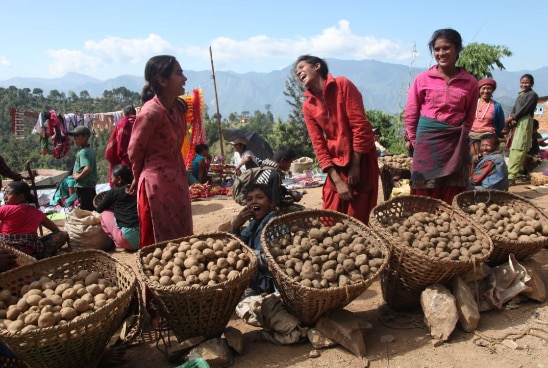 Women and men, especially from disadvantaged groups find employment and increase their income (Domain 2).

Within the second domain of intervention, Switzerland focuses on creating opportunities for women and men, especially from disadvantaged groups, to find employment and increase their income, through better functioning markets, improved rural infrastructure as well as private sector and market-oriented skills development.
Switzerland gears its focus towards supporting Small and Medium Enterprises (SMEs) to unlock their growth potential by addressing pressing challenges faced by enterprises such as unavailability of adequate skilled workforce, access to finance, and business support options, including in agriculture.
A skilled workforce is an instrumental driver of equitable socio-economic development. For this, youths should be able to acquire the level of skills demanded by the market in various sectors. In Nepal, Switzerland fosters access to skills development opportunities for youths through its programmes in Technical and Vocational Education and Training (TVET). SDC contributes to increase the number and quality of apprenticeship programmes offered in Nepal, based on a strong collaboration between training institutions and industries. It also supports the development and implementation of the National Vocational Qualification System through which people can validate and certify the skills and competencies they have gained through training or work experience.
In Agriculture, Switzerland supports SMEs' transition from lower to higher productivity activities to generate more quality jobs in the agriculture sector, therewith contributing to domain 2's overall goal. It does so by supporting agribusiness' access to financial and business development services. Furthermore, to facilitate and ensure socially discriminated groups' labour force participation and mobility, SDC also enhances subnational governments' important role in delivering infrastructure-related services.
Overall, Switzerland helps to strengthen the markets' ecosystem regardless of the sector, by working with the Government of Nepal at all tiers to create a conducive environment towards a vibrant, productive, and sustainable private sector. With a favorable regulatory environment, SMEs in Nepal can develop, innovate, mature and create quality and skilled jobs for the Nepalese people. Switzerland therefore supports the entrepreneurship ecosystem through dedicated policy engagements and crosscutting support to Federal State Building in all its projects in Domain 2. In addition, Switzerland also plays a proactive role in creating a common platform in Nepal for development finance institutions and development partners to collaborate and support greater inflow of investments into the country.