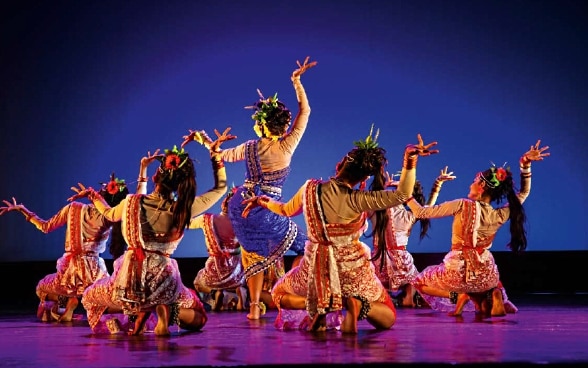 The SDC supports local cultural projects in its partner countries and priority regions, such as music projects in Bolivia to address issues of violence against women, a travelling film festival in Nepal to inform rural mountain communities about education, gender, migration, migrant labour or life and survival after the earthquake, and an arts festival with discussions on social justice at the Kigali Genocide Memorial Centre in Rwanda. An independent, diversified and participatory cultural sector makes a decisive contribution to attaining the Sustainable Development Goals, e.g. by strengthening civil society, protecting freedom of expression, or fostering integration and social cohesion.
The SDC's engagement in the arts also entails giving a voice to artists from countries of the South and East and from Switzerland and facilitating their access to the Swiss and international public, markets and professional networks. This is why the SDC organised the three-day CROSSROADS event in Basel and Geneva together with Pro Helvetia. Running until 10 February 2018, CROSSROADS brings together Swiss and international artists and culture professionals with representatives from cultural, funding and development institutions.
At the heart of the event are discussions about the challenges artists face and how these prevent them from working freely and assuming their role in society. It is also a platform for exchanging ideas on how artists can be supported effectively through international cultural sponsorship and on the role artists can play in the discussion of issues of social relevance.
"Artists contribute to shaping the future and to reflections on important local or global challenges that mark our development," says Géraldine Zeuner, head of the SDC's Knowledge-Learning-Culture Division. Through its work in the arts, the SDC is therefore committed to the preservation of cultural identity and to the promotion of freedom of expression and the support it can offer in shaping economic, social and cultural life.
In the representations abroad, the SDC works to improve the framework conditions for artists and culture professionals by sponsoring cultural events as well as learning and networking opportunities.
The work of Pro Helvetia and of the SDC is complementary: whereas the SDC concentrates on supporting artists from countries of the South and East, Pro Helvetia works to promote Swiss artists and cultural exchange.
---
Further information:
---
Address for enquiries:
Information FDFA
Bundeshaus West
CH-3003 Bern
Tel.: +41 58 462 31 53
Fax: +41 58 464 90 47
E-Mail: info@eda.admin.ch
---
Publisher: