Embassy of Switzerland in Pakistan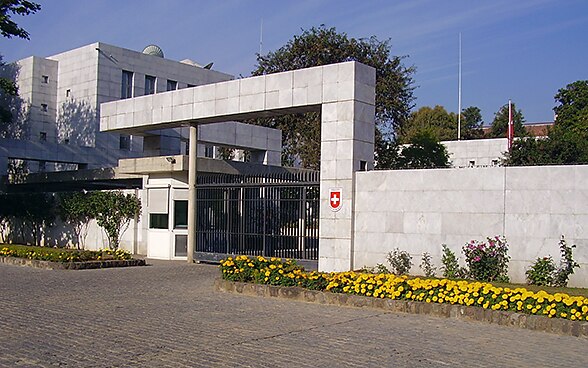 As the official representation of Switzerland, the Embassy covers all matters concerning diplomatic relations between the two countries. It represents Swiss interests in the areas of political, economic, financial and legal affairs, as well as science, education and culture.
Celebrating 1 August differently
© FDFA
This year's launch of Mission August 1st marks the first time the FDFA is celebrating Switzerland's national holiday online. The multilingual and interactive website – developed by Presence Switzerland together with the Consular Directorate – works as a virtual meeting place for the Swiss abroad, along with lovers of all things Swiss, where they can celebrate 1 August together and share their favourite moments online.
From 27 July, you'll find a wide range of ideas and inspiration for your very own 1 August celebration: www.missione1agosto.org
President of the Swiss Confederation Simonetta Sommaruga: National Day 2020 greetings for the Swiss abroad
© UVEK / swissinfo.ch
Mission August 1st - A greeting from our foreign minister, Ignazio Cassis
COVID-19
On 16 March 2020, the Swiss government (Federal Council) called on Swiss citizens currently travelling abroad to return to Switzerland.
In addition, the Federal Council has been advising since 13 March 2020 to refrain from non-urgent travel abroad until further notice. FDFA Travel Advice, Focus novel Coronavirus (COVID-19) (in German, French and Italian).
We advise Swiss citizens traveling in the region to return to Switzerland as soon as possible.
Please consult the website of the Swiss Federal Office of Public Health FOPH to be informed of the current situation and measures in place.
More information on the situation and measures in Pakistan here: Ministry of National Health Service Regulations and Coordination.
Other relevant sources of information here:
International Air Transport Association, IATA
Visa and Consular Section: Due to the current situation relating to the Coronavirus outbreak and the preventive measures taken by Pakistani authorities, all counter operations (public dealing) are ceased until further notice.
Visas: Visa applications are not accepted at Gerry's or at the Embassy. No visa is issued for pending applications. If you have any questions please send an email to islamabad.visa@eda.admin.ch.
Consular Section (not for visas): no new appointments can be given Family reunion and all previously booked appointments have been cancelled.
Consular services for Swiss citizens can be handled on request if urgent by sending an email to islamabad@eda.admin.ch.
In case of emergency, Consular services remain available outside office hours:
Helpline FDFA: +41 800 247 365 or +41 58 465 33 33, helpline@eda.admin.ch or +86 139 0133 1023.
Infoline Coronavirus: +41 58 463 00 00