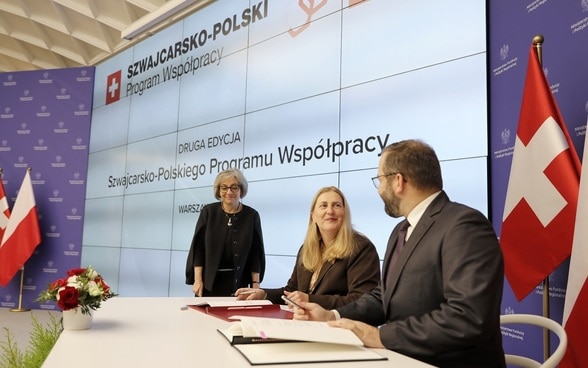 State Secretary for Economic Affairs Hélène Budliger Artieda and Poland's Minister for Development Funds and Regional Policy Grzegorz Puda signed the bilateral Framework Agreement on the second Swiss Contribution to Poland. This agreement sets out the objectives and scope of the contribution, the form and use of the assistance and the main provisions for the implementation of the new Swiss-Polish Cooperation Programme.
The Swiss-Polish Cooperation Programme is part of Switzerland's second contribution to selected EU Member States for reducing economic and social disparities and for cooperation in the area of migration. With an amount of CHF 320.1 million, Poland is the biggest recipient. The signing underpins Switzerland's continued interest in strengthening its very good bilateral and economic relations with Poland.
The new Swiss-Polish Cooperation Programme aims to support Poland's strategic reforms and strengthen Swiss-Polish partnerships. The programme targets areas where there are proven needs in Poland and opportunities for Switzerland to contribute with its experience and expertise. It focuses on two programmes:
The Polish-Swiss Development of Towns Programme, amounting to CHF 278.7 million, is aimed at supporting the economic and social development of small and medium-sized towns in Poland;
The Research and Innovation Programme amounting to CHF 35 million, is aimed at further promoting the excellence of research and the capacity for innovation of Polish research organizations, universities and businesses through greater collaboration with Switzerland.
The Framework Agreement between the Swiss Confederation and the Republic of Poland on the implementation of the second Swiss Contribution to selected Member States of the European Union was concluded on 5 December 2022. It is an investment in Europe's security, stability and prosperity. It aims to strengthen cohesion in Europe and support countries facing exceptional migration challenges.
The Annex contains the country-specific set-up, which lays down the thematic and geographical allocations of the Contribution and the specific rules agreed between Switzerland and Poland, as well as the attribution of responsibilities and tasks to the entities involved in the implementation of the Swiss-Polish Cooperation Programme.