Embassy of Switzerland in Saudi Arabia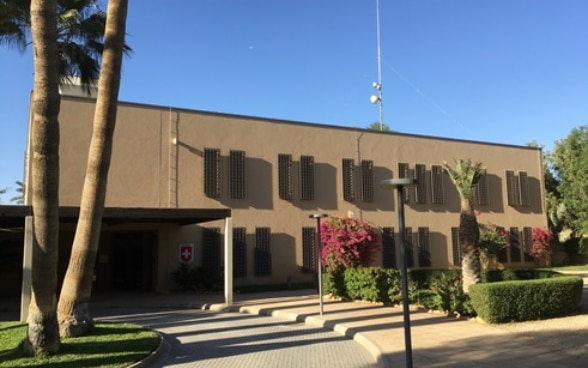 As the official representation of Switzerland, the Embassy covers all matters concerning diplomatic relations between the two countries. It represents Swiss interests in the areas of political, economic, financial and legal affairs, as well as science, education and culture.
COVID-19 (Coronavirus) – information
From May 31, 2020, the Embassy of Switzerland in Saudi Arabia is open to Swiss Citizens for urgent matters, during normal opening hours (Sun-Thu 8:00am-11:30am) or by phone during working hours (Sun-Wed 7:30-16:30, Thu 7:30-14:00). In case of need outside the opening hours, Swiss citizens can contact the FDFA Helpline: +41 800 247 365 or +41 58 465 33 33, email helpline@eda.admin.ch
Entry restrictions:
1. persons who cannot enter Switzerland:
a. Those who are coming from high-risk countries or regions.
2. persons who can enter Switzerland are the ones who meet at least one of the following requirements:
a. have Swiss/EU citizenship (and their family members)
b. hold a Swiss residence permit (L/B/C)
c. possess an FDFA legitimation card
d. have a D visa issued by Switzerland
e. posses a C visa issued by Switzerland after March 16, 2020 in a valid exceptional case
Corona: Schengen and Swiss national visas
long term stays (more than 90 days) -
taking office/family/reunification/student
ordinary procedures prior to covid-19 situation apply to persons subject to National D visa requirements who are taking up office, for family reunification purposes or student
short-term stays (up to 90 days)
In view of the coronavirus pandemic, the Federal Council (Government) of Switzerland has decided to suspend the issuing of Schengen visas to third-country nationals as of March 19, 2020. Persons from third countries, including Saudi Arabia, are not allowed to enter Switzerland even if they have a valid Schengen visa.
The visa counters of the Embassy and of our partner VFS Global remain closed and no Schengen visas are being issued for the time being.
Cases of special necessity:
In cases of special necessity, it is possible to enter Switzerland despite the entry ban.
Persons who require a visa must apply at the Embassy of Switzerland in Riyadh, explaining why they need to travel.
The Embassy will allow entry only in the following cases:
entry because a close family member in Switzerland has died or is dying;
entry to continue essential medical treatment that began in Switzerland or abroad;
entry on essential official visits in terms of Switzerland's international commitments;
entry by crew members of scheduled and charter flights and crew members on cargo, aerial work and air-ambulance flights, flights for maintenance checks and private flights (business and general aviation) carrying persons authorized to enter Switzerland;
entry to visit grandpartnes, parents, siblings, children or grandchilder in a medical emergency;
entry to visit grandparents, parents, siblings, children or grandchildren who live in Switzerland if there is an important family reason for doing so (birth, wedding, serious illness);
entry for court appearances, urgent business appointments that cannot be postponed or practical training courses;
entry by professional sportsmen and women and their coaches, etc in order to partecipate in competitions;
entry to accompany persons entering or leaving Switzerland where their entry is permitted under Art. 3 COVID-19 Ordinance 3 and the persons concerned require special support e.g. minor children, elderly people, disabled people, sick people;
entry by the immediate family members of a Swiss citizen registered with a Swiss foreign representation who are entering Switzerland with that Swiss citizen for a stay here that does not require authorization. Immediate family means the Swiss citizen's spouse or registered partner and minor children (including step-children);
entry to visit a partner to whom one is not married or in a registered partnership with and with whom one does not have children.
For such special cases, please contact the Visa Section of the Embassy by email:
riyadh.visa@eda.admin.ch
For information on the Coronavirus and the current situation, the following links may be useful:

Ministry of Health of Saudi Arabia
Federal Office of Public Health