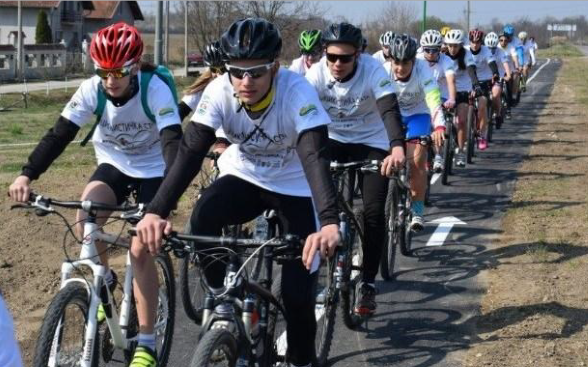 A symbolic ride by members of the cycling club "Sava" marked the official opening of the cycle path from Mačvanska Mitrovica to Zasavica, part of the "Sava route". The opening event brought together representatives of the Provincial Government, the Ministry of Tourism, Trade and Telecommunications, the Regional Development Agency Srem and its partners from the public and private sector.
 "Biking and cycle-tourism are growing and raising the reputation of Vojvodina as a tourist destination. In addition to the economic aspect, tourism and business potential, this route is linked with the three international Eurovelo routes" said Ivan Djokovic, Vice-President of the Vojvodina Provincial Government and Provincial Secretary of Economy and Trade.
Miroslav Knežević, State Secretary of the Ministry of Trade, Tourism and Telecommunications said that the Ministry has supported this project as a good example of connecting several tourist locations within the region of Srem. He also underlined that this area has great potential for rural tourism development with several well-known households providing services to tourists.
Construction of a cycle path from Sremska Mitrovica to Zasavica represents a joint effort supported by four partners: the Government of Switzerland and the Provincial Secretariat that granted EUR 63,000, and the Ministry of Trade, Tourism and Telecommunications and the city of Sremska Mitrovica contributed EUR 42,000 each.
The "Bicycle tours toward rural and regional development Srem" project is supported by the Swiss Government with EUR 315,000 as part of its "Rural and Regional Development Support in Serbia" program. The total value of the program is EUR 3.36 million and it will last until April 2019.