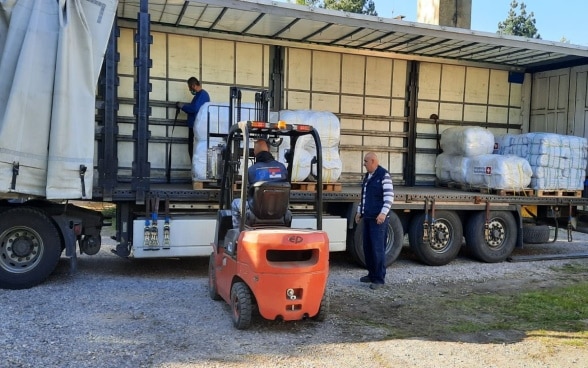 The reception and asylum centers throughout Serbia are under pressure. The outbreak of COVID-19 has led to a situation where most centers are seriously overcrowded and under the current circumstances, the Serbian Commissariat for Refugees and Migration (SCRM) reached out for international support. Switzerland's Humanitarian Aid was in a position to respond rapidly and send a truck with five large multipurpose tents, 1,500 blankets and 200 tarpaulins. The transport arrived in Serbia on Monday, 6 April 2020.
Commissioner Vladimir Cucic expressed his gratitude: "With such a prompt response to the Commissariat's appeal, Switzerland has again shown that it is a good friend and reliable partner who has been helping Serbia and the Commissariat for over 25 years in the reception and protection of refugees, internally displaced persons and other vulnerable categories of migrants".
Over the last couple of weeks and due to the closure of borders in the region, migrants and asylum seekers have remained stuck in the country. In the second half of March, authorities gathered over 2,000 migrants from public places and transferred them to the nearest asylum centers or reception/transit center. The number of asylum seekers and migrants increased to 8,700 at the end of March and this has led to a shortage of 2,000 spaces in governmental facilities.
The six tons of material donated by Switzerland was sent to locations identified by the Serbian authorities where migrants at this point are most in need of the tents, blankets and tarpaulins. Commissioner Cucic pointed out: "Switzerland's assistance will enable the Commissariat to ensure the appropriate conditions for the reception of migrants who found themselves in the Republic of Serbia at the moment of the declaration of the pandemic and the rapid introduction of preventive measures on its territory".