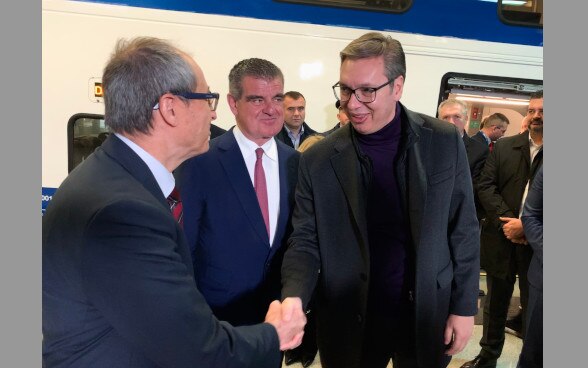 In his brief keynote address, Serbian President Aleksandar Vucic commended the arrival of the high-speed trains as a new era for public transportation in Serbia.
Ambassador Schmid pointed out in his speech that this arrival event joins a series of recent Swiss-Serbian success stories. Only a few weeks ago, the Swiss Embassy celebrated in close cooperation with the City of Belgrade the 20th anniversary since the arrival of the Basel trams to Belgrade with a big public celebration. Ambassador Schmid seized the opportunity to thank Minister for Transportation Tomislav Momirovic and Belgrade Vice-Mayor Goran Vesic for their esteemed support and presence during this last celebration.
Furthermore, Ambassador Schmid recalled that Switzerland and Serbia are celebrating 30 years of Swiss-Serbian cooperation this year. According to the Ambassador, what had started with humanitarian aid in very difficult times, in the year 1991, has developed over the years into a comprehensive bilateral cooperation. Through numerous projects, Switzerland is supporting innovation and modernization efforts of the Serbian government in public administration, in education – with a particular focus on dual education -, in energy infrastructure and many other areas. Thus, Ambassador Schmid stated that these two recent anniversaries have in common that they are first of all true success stories shared by the two countries and that secondly, they show that Switzerland has been engaged in Serbia for a long time – and is determined to continue to do so in the future.
The Ambassador concluded by emphasizing that together with his whole team at the embassy, he will continue to do his utmost to further enhance the strong relationship between Switzerland and Serbia. He expressed his conviction that there is a great potential, specifically in the area of public transport, but also beyond.