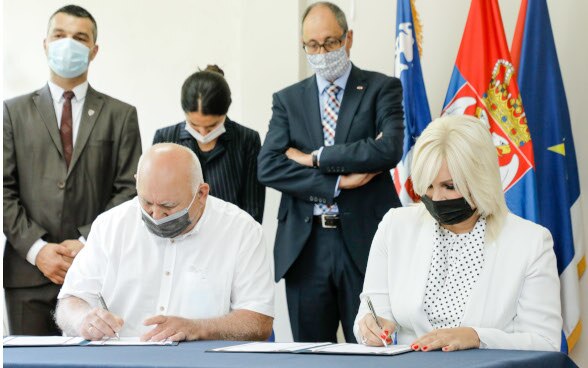 "With this and other measures, like the introduction of the European Energy Award, Switzerland supports the efforts of the Ministry to improve energy efficiency in public buildings in a number of municipalities including Vrbas, Krusevac, Paracin and Uzice with a total amount of EUR 8 mio. In Vrbas we also supported the development of the Spatial Heat Supply Program for the period 2021 to 2030, which should provide a solid basis for the energy transition process in this municipality" said the Ambassador.
"This project is part of our long-term goal of reducing energy consumption by 40 percent by 2030. Also, the plan is to have at least 50 percent of energy obtained from renewable sources, and that is a joint task of the Government, local governments, but also all of us, and to teach our children about what energy efficiency is and how important energy is. Only when we achieve that goal can we talk about the green agenda and about trying to have a healthier environment," Mrs. Deputy Prime Minister Zorana Mihajlovic pointed out.
The construction in Vrbas is expected to be finalized by April 2022.