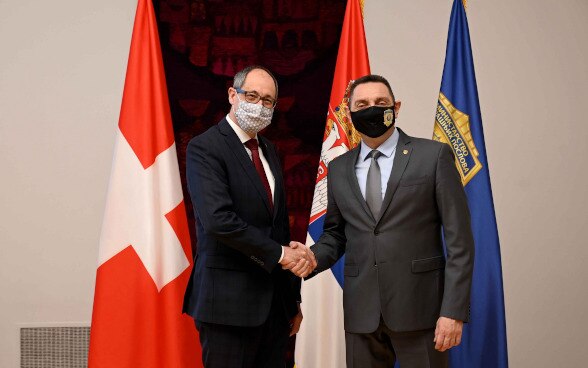 On police related matters, Ambassador Schmid thanked Minister Vulin for the excellent cooperation and for the continuous implementation of the 2011 bilateral agreement on police cooperation between the two countries.
Ambassador Schmid also thanked the Minister for the support provided by the Ministry of Interior to the migration dialogue between the two countries, following the migration partnership concluded in 2009. The partnership between the two countries is centered on migration management and prevention of irregular migration. A new meeting of the migration dialogue is foreseen later this year.
Ambassador Schmid thanked the Serbian government and the Commissariat for Refugees and Migration, both strategic partners of Switzerland, for the great efforts Serbia deployed in managing the issues related to the flows of migrants and refugees, in particular since 2015.
Finally the Ambassador and the Minister exchanged on the issue of fighting against organized crime, as well as on the necessity to protect journalists enquiring on such matters.