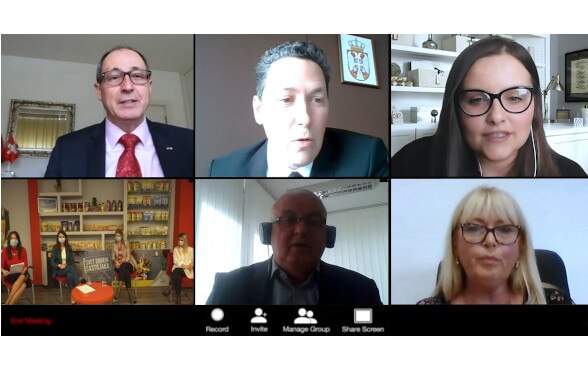 In his opening remarks, Ambassador Schmid acknowledged the achievements of Nestlé's facility in Surcin, as the first factory in Serbia to achieve the ambitious "Zero Waste to Landfill" goal. The company has also made significant investments in order to effectively treat its waste water, to reduce water consumption as well as packaging material and in that way cutting down its emissions of carbon dioxide. "This is a great example of private sector contribution to sustainable development".
Ambassador Schmid reminded that Switzerland is currently assisting Serbia in implementing the 2030 Agenda by focusing on several Sustainable Development Goals, from combating poverty to realizing gender equality and from ensuring affordable and clean energy to providing decent work and economic growth. He emphasized that achieving the objectives of sustainable development requires joint efforts of the public and private sector. He expressed his satisfaction to see a Swiss company setting an example in this regard.
Switzerland has developed a strong expertise when it comes to clean technologies and Ambassador Schmid trusts that Swiss investments in Serbia will further underpin Swiss public investments and foster sustainable development in Serbia.