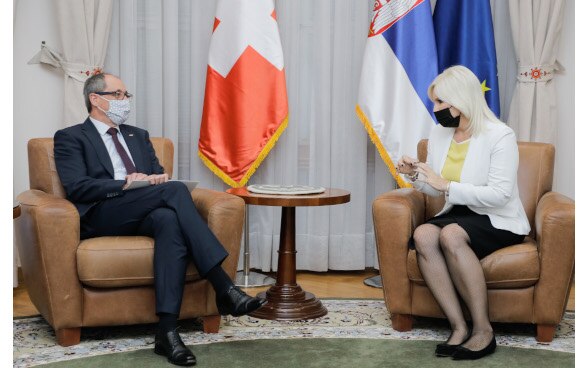 Ambassador Schmid congratulated the Minister for the recent adoption of four new laws which are improving the regulatory framework in the mining and energy sector and will support the development objectives of Serbia by attracting additional investments. The renewed commitment of the Serbian Government to the Green Agenda has been recognized also by Swiss companies and has opened the doors for new private investments in this sector. Regarding the Swiss Government's support to Serbia through its development programs in the energy transition process, Switzerland remains committed to continue and to extend its cooperation in coordination with the Ministry and the local governments. These projects are part of the Swiss cooperation program in Serbia through which more than 20 million Euros of Swiss public funds are invested in Serbia every year, supporting the reforms of the Serbian Government, with a special focus on governance, economy and energy.
As an example, Switzerland supports the improvement of energy management at the local level through introduction of the European Energy Award and implementation of energy efficiency measures in schools. Switzerland also supports decarbonisation efforts of Serbia by fostering the introduction of renewable energy in the district heating sector. Ambassador Schmid was also pleased to note that the Ministry is currently implementing two different models for financing energy efficiency measures in municipalities developed with Swiss support.
Minister Mihajlovic underlined the importance of the cooperation with Switzerland in the area of energy efficiency and renewable energy and both sides are looking forward to continue the excellent cooperation.