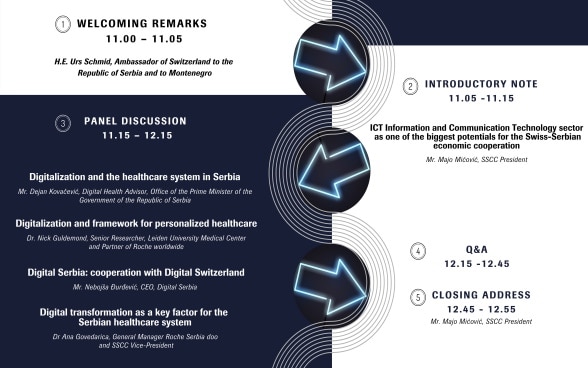 Madam Moderator, dear President of the Swiss Serbian Chamber of Commerce, dear Panelists, Ladies and Gentlemen,
It is for me a pleasure and an honor to participate at the opening of this online meeting, organized by the Chamber, on such an important topic.
In my brief remarks I will touch upon digital transformation in general, before making some comments on the Swiss Serbian bilateral relations in this regard.
Ladies and Gentlemen, we can only but try to grasp the far-reaching implications of digital transformation. We know that this transformation is an important driver of progress and prosperity, but we are also aware that it comes with a number of challenges and threats.
The changes in the labor market caused by digital transformation have the potential to widen social and economic disparities, and we need to put a special focus on the development of human capital, particularly also of women and of young people. Too many of them in Serbia are currently facing unemployment.
Investment in human capital and promotion of knowledge and skills are crucial for improving economic participation and social inclusion and attaining sustainable growth, which is rightly described by Prime Minister Ana Brnabic as one of the objectives for the Serbian government.
By doing so, we are acknowledging that human capital development, including in the digital context, has a positive impact on jobs and wealth creation and can positively contribute to making economies and societies more resilient, including against corruption.
And speaking more precisely about the digital context we may already draw some early conclusions from the current COVID-19 situation, which are:
1) The pandemic has acted as a considerable accelerator of digital transformation around the world; and
2) Those companies and those economic activities that were most advanced in the digital transformation have proven to be more resilient and better equipped to face the disruptive consequences of the pandemic.
Ladies and Gentlemen, within our bilateral relations with Serbia, we are recognizing that there are opportunities and challenges associated with new forms of employment arising from the digital transformation of the economy.
The ICT industry and digital transformation of more traditional sectors bears an immense potential in Serbia, and the Government of Serbia has indeed shown great leadership in this area. Its decision to integrate digital skills in primary school curricula which enables children to learn about the opportunities and risks of digital technologies early on is inspiring. As the Prime Minister Ana Brnabic emphasized in her online address at the opening of the digital days organized by Digital Switzerland, these measures are bound to pay off in the long run.
Based on our close economic and social ties, our two countries stand to gain a lot from cooperation in the digital realm. Trade in digital services and hardware, investments and exchange of know-how, technologies and talents in both directions can be reinforced.
The Swiss cooperation program is already supporting various initiatives that promote the digital economy in Serbia. For instance, the Swiss State Secretariat for Economy has been a supporter of the Science and Technology Park in Belgrade from its inception, and is now extending further funding to strengthen the Science and Technology Parks in Nis and Cacak. Most of the start-ups hosted by these incubators intend to market digital services and solutions, some of them also in the healthcare sector. The Swiss Entrepreneurship Programme, implemented by Swisscontact, puts international expertise and networks at the disposal of incubators and accelerators to further strengthen the entrepreneurship ecosystem in Serbia, with a specific focus on the IT sector.
On the other side, we are also keen to cooperate with private Swiss investors who are supporting the digitalization of the economy through the creation of specific jobs and contributing to sustainable and inclusive economic growth.
President Vucic and most recently Prime Minister Brnabic have been regular visitors of the Digital days in Switzerland. Last year, the Prime Minister met also the Swiss President, and they talked about the potential and challenges of digital transformation. Our Minister of Foreign Affairs has included Digitalization as one of the essential pillars of Swiss Foreign Affairs' strategy and by adopting the Digital Foreign Policy Strategy 2021–2024, our government has recently acknowledged digitalization as a thematic priority of Switzerland's foreign policy. Switzerland is indeed amongst the ten most digitally competitive economies in the world.
I am therefore convinced that digital transformation is a key issue, for both Switzerland and Serbia and for both, the public and the private sectors. The topic of today's conference is therefore very timely and I can only congratulate you on the organization of this event. I also thank the eminent speakers for their contribution and I wish you all an interesting and inspiring exchange.