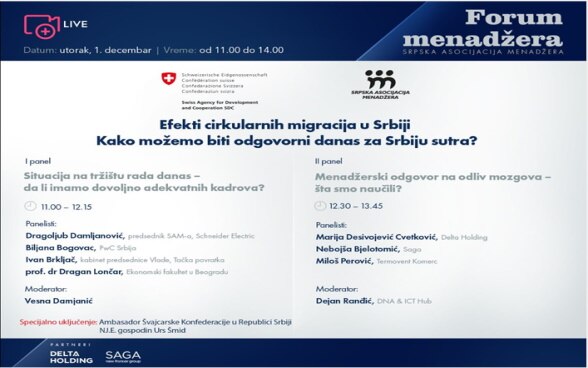 Ladies and gentlemen,
It's a pleasure and an honor to participate today in the opening of this conference. I'm grateful for the opportunity to address, amongst others, the representatives of the Serbian business community at an early stage of assuming my responsibilities as the new Swiss Ambassador to the Republic of Serbia and to Montenegro.
The topic of today's conference is crucial for most countries in the world, including Switzerland. Measures to foster competitiveness and innovation and to retain and attract young talents are ranking very high on the Swiss political agenda.
I know that demographic trends in Serbia are critical and therefore I wish to congratulate you for the dedicated efforts undertaken to addressing the issue of brain drain. 
In 2020, according to the Global Innovation Index, Switzerland remains the most innovative country in the world, and in terms of competitiveness my country is currently ranked among the three top nations. Continuous efforts are of course required to maintain these positions. A well-functioning job market and an effective and economically well integrated education system are among the key ingredients, but also the innovative spirit of the private sector which substantially participates in applied research is of paramount importance.
Young people cannot, and should not, be prevented from leaving a country, as in a globalized world any national economy relies on international exchange and cooperation. However, investing in education, research and innovation and creating a legal framework supportive for investments and private entrepreneurship will ultimately create career options and living conditions attractive to young people. In this regard I am satisfied to note that Switzerland is among the most important direct foreign investors of Serbia and that Swiss companies in Serbia employ more than 10'000 persons.
Switzerland established diplomatic relations with Serbia more than a century ago. Since 1991, nearly 30 years ago, Switzerland has gradually been building up a cooperation program and is today among the four largest bilateral donors in Serbia, having invested more than 400 million EURO in official development assistance so far.
The Swiss cooperation program in Serbia is based on three strategic axes: Economic Development and Employment, Governance, and Sustainable Energy and Resilient Cities. The topic of today's conference is most directly related to the Economic Development and Employment domain which focuses on supporting inclusive and sustainable economic growth and quality employment for all.
Let me briefly outline some of the projects being implemented and having the objective of creating conditions favorable to retain and attract qualified people in Serbia:
Switzerland is promoting skills development through work based learning programs in south east and south west Serbia. We witnessed promising results in our project "From Education to Employment – E2E". In a survey recently conducted 70% of the trained people got and kept jobs a year and half after conclusion of the trainings, even under Covid-19 conditions. 128 companies took part and co-financed this program with a 50% share. We are currently considering expanding this program to further regions.
In line with this skills development project, Switzerland is decisively supporting the dual education reform of the government of Serbia with policy advice and expertise from the renowned Federal Technical Institute in Zurich, the ETH Zurich. This cooperation has resulted in Serbia becoming a regional leader in implementing a dual education system. The reform will take time, but based on the current support by the political leadership, Switzerland is prepared to continue its cooperation.
Switzerland has also been crucially assisting the creation of the Science and Technological Park in Belgrade. It is with satisfaction that we note that the newly established enterprises are not only creating an increasing number of highly qualified jobs but have also been able to generate exports of high tech products of several million dollars. In the current phase Switzerland is enabling the transfer of this experience to the new Science and Technological Parks in Niš and in Čačak.
Switzerland will remain committed to economic development and employment in Serbia. A new cooperation program 2022-2025 is currently being developed, taking into account the experiences made so far, but also trying to respond to new emerging needs. In this regard I'm convinced that the insights of the survey conducted by the Serbian Association of Managers on circular migration and brain drain from a youth and entrepreneur's perspective will be an important source of inspiration for our further reflections.
With this in mind I wish you a fruitful discussion with your guests today and look forward to the final recommendations!