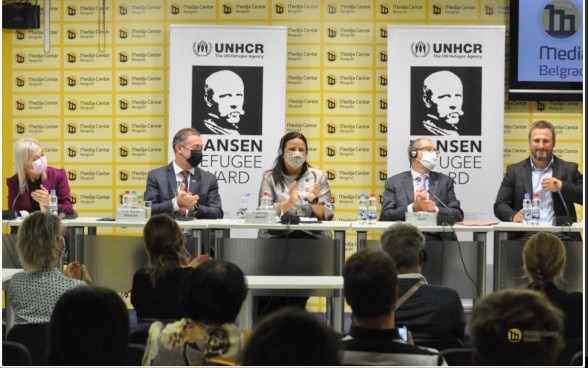 Ladies and Gentlemen,
It is a special pleasure for me to address this media conference today on the occasion of granting the Nansen Refugee Award to a citizen of the Republic of Serbia. The Government of Switzerland, as well as the Canton and the City of Geneva, where UNHCR has its headquarters, have supported the Nansen Refugee Award since its establishment in 1954. Today we have the honor to celebrate the granting of this prestigious award for the first time to a person from the Western Balkans. I congratulate wholeheartedly the regional winner of the Nansen Refugee Award for Europe: Mr. Nikola Kovačević.
Mr. Kovačević, an independent human rights lawyer, has been selected from more than 200 nominees for his tireless work on supporting asylum-seekers and for his great efforts in raising public awareness on the situation of refugees and migrants, advocating also against xenophobia and anti-migrant rhetoric.
Switzerland and Serbia have a well-established institutional cooperation on migration based on a bilateral Migration Partnership Agreement concluded already in 2009. Against this background I am especially pleased to see that a professional from Serbia has been selected to receive the prestigious Nansen award. This shows, not at least, the responsiveness of the Serbian asylum system for cooperating with civil society experts and it confirms the necessity of continued engagement with civil society on the subject of migration.
The Swiss-Serbian Migration partnership has allowed us to observe the continuous development of the Serbian asylum system. Switzerland supported the Asylum office of the Ministry of Interior, and its colleagues in the field, through capacity building and knowledge transfer, paired with significant technical support. We all know, that refugee protection in the context of mixed migration flows is challenging, not only in Serbia, but in Europe in general. I therefor congratulate the professionals from the asylum office for their commitment to keep up with these challenges by constantly learning and adjusting to the changing context.
I wish Mr. Kovačević continued success in his work and I look forward also to the continued improvement of the refugee protection system in Serbia. Times are challenging, especially for the countries on the so-called Balkan route, but today's event confirms the positive role Serbia plays in this context and its capacity to face the challenges of today and of tomorrow.