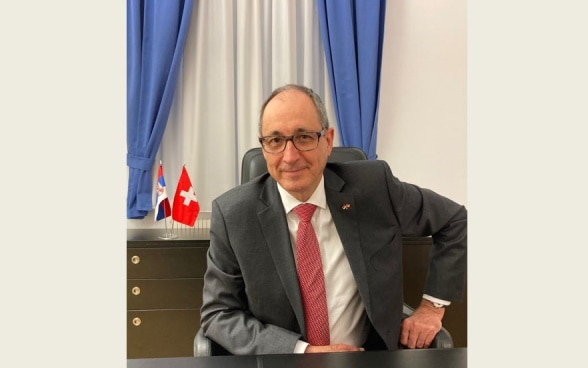 Dear visitor,
Let me welcome you to the website of the Embassy of Switzerland in Serbia.
I have only recently taken up my functions as the Ambassador of Switzerland to Serbia and I had the honor to present my letters of credence to the President of the Republic of Serbia, H.E. Mr. Alexandar Vucic, on 11 of December 2020.
The country I represent is in many ways comparable to my host country: roughly similar in size and population, landlocked, at the crossroad of many cultures, proud of its tradition and - counting on a famous tennis star to represent universal values of sportsmanship across the world.
Our bilateral relations are strong and they are fostered not at least by the presence of a strong Serbian community living in Switzerland and the contributions of many citizens of dual nationality in both of our countries. Switzerland is an important investor in Serbia and Swiss companies operating in Serbia are employing more than 10'000 people.
Switzerland is also implementing an ambitious cooperation program in Serbia through which every year more than 20 Million Swiss Francs are invested in projects aimed at supporting sustainable economic development and the fostering of democratic institutions and the rule of law.
On this website you will find additional information about Switzerland and the bilateral relations between Switzerland and the Republic of Serbia. The site also offers an overview of services provided by the Embassy. Please do not hesitate to contact us - my staff and I would be pleased to help you.
Urs Schmid
Ambassador of Switzerland