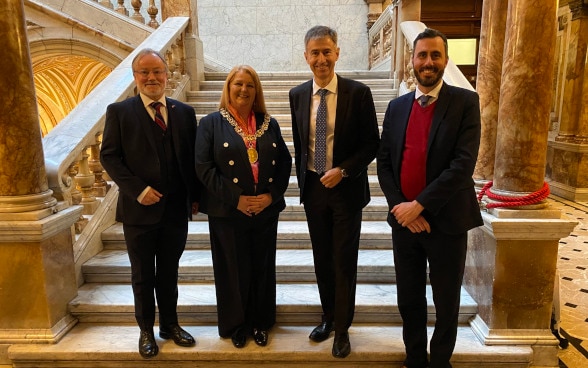 During our Glasgow visit, we met with a range of stakeholders in politics, business, academia and other sectors, as well as being formally welcomed to the city by the Lord Provost of Glasgow Cllr Jacqueline McLaren.
We also took a look at the Sir Chris Hoy Velodrome, where a number of Swiss cyclists will be competing in the 2023 UCI World Cycling Championships from 3 to 13 August.

On our #WeAreSwitzerland visit to Edinburgh last year, one of the themes we explored was the growing space tech sectors that can be found in both Switzerland and Scotland, and future partnerships in this area. We were delighted to visit the Skyrora space tech company's new design and manufacturing facility on the outskirts of Glasgow.

Switzerland and the UK have a long-standing relationship with common political and economic values, which form the basis for successful cooperation in many fields. Our two countries share a number of strengths: both are world leaders in innovation, research and education, and are home to international financial centres and world-leading cultural institutions. As we visit new locations on our #WeAreSwitzerland tour, we will continue to highlight just some of these shared strengths as we look to further build on the already strong relationship between Switzerland and the UK.