Consulate General in Ho Chi Minh City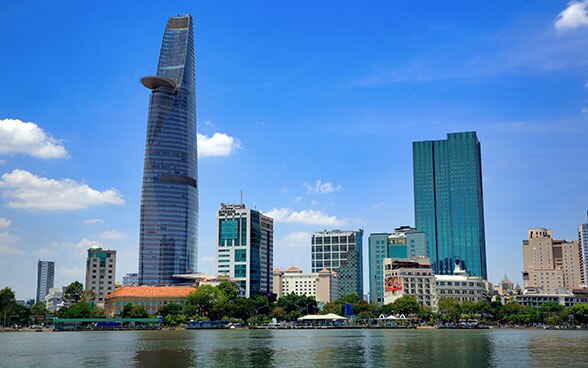 Due to the dynamic Covid-19 situation in Vietnam and the necessary protective measures, the Consulate General currently only receives clients with urgent matters at the counter and only by appointment. For all service requests and appointments, please contact the Consulate General by phone or email. In case of an emergency outside opening hours, you can contact the FDFA Helpline around the clock.
Please note that you will need two identification documents when visiting the Consulate General. One document (identity card, driver's license or other identification with photo and identity details of the owner) must be deposited in the lobby of the Bitexco Financial Tower to gain access to the office tower. The other document (passport) is to be presented at the Consulate General.
General information

All Swiss citizens in Vietnam are called up to follow the instructions and recommendations of the Vietnamese authorities.

All persons in Vietnam are encouraged to submit an online health declaration and update it as needed: tokhaiyte.vn, tab "For foreign guests" or via smartphone app NCOVI. Print out this confirmation at the end of filling it out or save it on your mobile phone.

For general information related to the Coronavirus (COVID-19) kindly consult the information and directives of the Vietnam Tourism Advisory Board, local authorities (in Vietnamese only), their recommendations (in Vietnamese only), the online newspaper of the Vietnamese Government and the recommendations of the World Health Organisation WHO.

In Switzerland, the Federal Office of Public Health FHPO informs the public regarding COVID-19.

The Government of Liechtenstein informs regarding the COVID-19 situation in Liechtenstein.

The Travel Advice FDFA (in German, French and Italian) offers travellers basic information for travel preparation by informing on possible risks and certain precautions. They are to be considered as a complementary source of information.
Contact with the Consulate General

The Consulate General of Switzerland in Ho Chi Minh City can be contacted by phone during opening hours.

Outside the opening hours you can reach us for non-emergency inquiries by email and we will get in touch with you in due time.

In an emergency outside our opening hours, Swiss and Liechtenstein citizens can contact the Helpline FDFA around the clock.
Swiss non-resident travellers in Vietnam

In view of the extraordinary circumstances, we urge non-resident Swiss citizens in Vietnam to register on Travel Admin and keep the information updated at all times. This will allow the Consulate General in Ho Chi Minh City to contact them when needed.

On June 4, 2021 the Immigration Department announced a new policy that provides an automatic extension of temporary stay for foreigners in certain qualifying groups with plans to depart Vietnam.

Swiss and Liechtenstein citizens who need certification according to the new policy can contact the Consulate General of Switzerland in Ho Chi Minh City.

The Federal Council has called on Swiss travellers to return to their permanent place of residence in Switzerland or abroad.
Return to Switzerland or Liechtenstein

Swiss and Liechtenstein nationals and foreigners with a valid residence permit for Switzerland, who have registered on Travel Admin, will be informed by the Swiss Consulate General in Ho Chi Minh City by email, if special travel possibilities to Switzerland become known at short notice.

At the moment, the following airlines are still offering possible flight connections out of Vietnam to Europe. This information is not exhaustive and may change at any time. Accordingly the Swiss Consulate General cannot assume any liability in relation to this information and advises travellers always to check with the respective airlines or travel agencies:

Swiss International Air Lines / Lufthansa is offering flight connections via Hong Kong to Europe in cooperation with Cathay Pacific. The Group's office in Vietnam can be contacted at lufthansa.vn@dlh.de

Important information on the entry requirements of Switzerland for all travelers of Swiss or foreign nationality can be found below in the rubric "COVID-19 Pandemic - Entry Regulations Switzerland".
Entry regulations Switzerland
Entry regulations Vietnam

Vietnam has suspended entry for foreigners until further notice.

Airlines are requested not to transport any passengers without a special permission of the Vietnamese authorities into Vietnam for the time being.

Persons authorized to enter Vietnam with a special permission will be subjected to a strict health check and and in most cases a compulsory 21 day quarantine. The cost for food and lodging will have to be borne by the person concerned.

Investors, experts, skilled workers and managers are allowed to enter Vietnam under certain conditions. These conditions and regulations vary from province to province. Therefore, the employer/sponsor has to contact the People's Committee of the relevant province or city for detailed instructions about the necessary procedures.